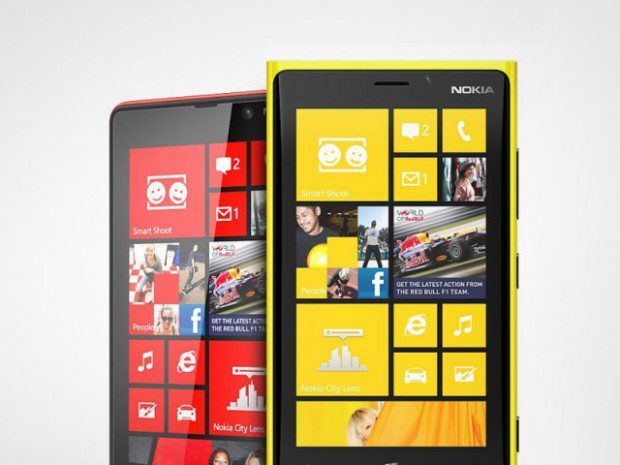 Nokia has announced in a press release the pricing and carrier availability of their new Windows Phone 8 handsets.
The Nokia Lumia 920 will be available on Vodafone and also on mobilcom-debitel in yellow, red, white and black, while the Nokia Lumia 820 will be available on Telefonica and Telekom in red, yellow, white and black.
The recommended retail price of the Nokia Lumia 920 is 649 euros and for the Lumia 820 at 499 euros.
Exact release dates have not yet been announced, but Nokia does state November availability for both handsets.
See the press release after the break.
Nokia Lumia 920
The most innovative smartphone

The Nokia Lumia 920 comes inter alia with the latest innovations in Nokia Pure View Imaging. Thanks to its "Floating Lens Technology", the large f/2.0 aperture and backside illumination sensor, the camera of the Lumia 920 starts without a flash 5-times more light than the smartphones from other manufacturers while delivering clear and sharp images in even indoors and at night. By optical image stabilization and hand movements during picture taking or video recording will be compensated.

In addition to the integrated built-in "Wireless Charging" the Nokia Lumia 920 with the app "Nokia City Compass", a new augmented reality experience based on Nokia Maps. Together with the further development of Nokia navigation and Nokia Bus & Train set the Nokia Location apps the most comprehensive integrated solution for location-based information on smartphones represent The Nokia Lumia 920 is in Germany in November for a suggested retail price of 649, – including Euro (taxes, Handsets be) available.
Nokia Lumia 820
Versatile smartphone Lumia

The Nokia Lumia 820 is a colorful middle-class smartphone that combines the benefits of a high-end device with a compact, stylish exterior. While the Nokia Lumia 820 has the unibody appearance of a high-end Lumia smartphones, but its design allows the replacement of the rear cover. These interchangeable covers not only allow the selection of a range of colors, but also adding features such as the wireless battery charging. Also hidden under the covers is a slot for Micro SD memory cards. In Germany, the Nokia Lumia 820 in November at a recommended retail price of 499, – Euro (including VAT, without contract) will be available.
Nokia Mix Radio
The free music streaming service "Nokia Mix Radio" is available exclusively on Nokia Lumia smartphones. Over a hundred mixes of more than 15 million songs waiting to be heard by the Lumia anonymous users. With the convenient offline function, up to 4 mixes even downloaded directly to your phone and can be used offline, which, for example, traveling offers a practical benefit and real value.
Via Mobilflip.de, Thanks Oliver for the tip.