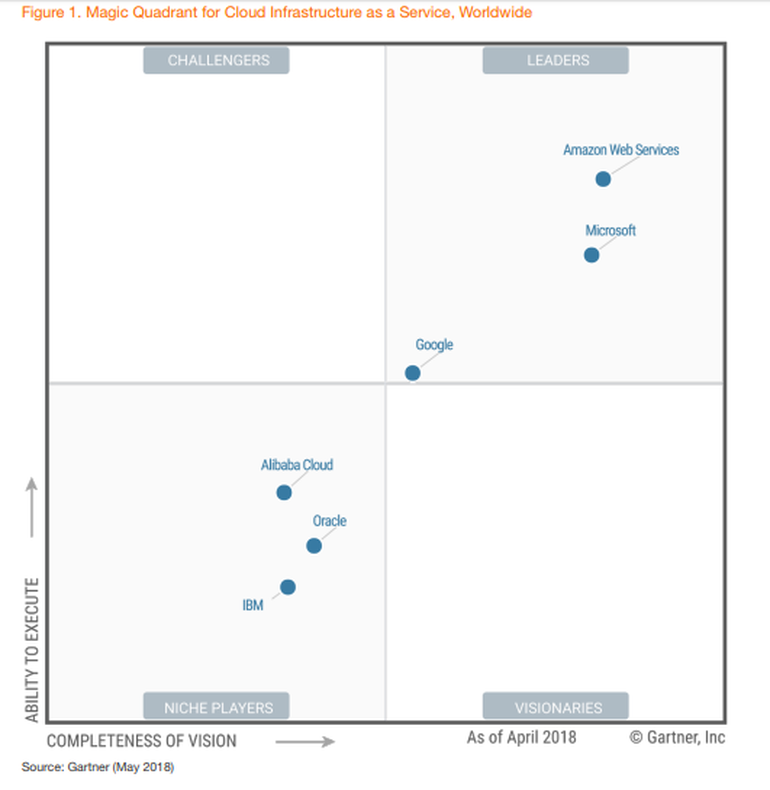 Research and advisory firm Gartner recently published its Magic Quadrant for Cloud Infrastructure as a Service (IaaS) Worldwide 2018 report. For the fifth consecutive year, Gartner has positioned Microsoft as a leader in the report. When compared to last year's Magic Quadrant report, Microsoft has also moved closer towards the market leader Amazon Web Services.
Even though Azure initially started its journey as a PaaS, it entered the IaaS market in 2013. Since then, they have delivered several IaaS capabilities to meet the needs of enterprise customers by keeping the price in line with market leader AWS.
Gartner listed the following as the strengths and weakness of Azure's IaaS capabilities:
Strengths:
Microsoft Azure's core strength is its Microsoft heritage — its integrations (both current and future) with other Microsoft products and services, its leverage of the existing Microsoft ISV ecosystem, and its overall strategic importance to Microsoft's future. Azure has a very broad range of services, and Microsoft has steadily executed on an ambitious roadmap. Customers that are strategically committed to Microsoft technology generally choose Azure as their primary cloud provider.

Microsoft Azure's capabilities have become increasingly innovative and open, with improved support for Linux and open-source application stacks. Furthermore, many customers that are pursuing a multicloud strategy will use Azure for some of their workloads, and Microsoft's on-premises Azure Stack software may potentially attract customers seeking hybrid solutions.

Microsoft has sustained a very high growth rate over multiple years, and Gartner estimates its end-of-2017 revenue run rate for integrated IaaS+PaaS at more than $4 billion. Microsoft is leveraging its tremendous sales reach and ability to bundle Azure with other Microsoft products and services in order to drive adoption; Office 365 customers often decide it is most logical to adopt Azure. Microsoft is steadily growing the size of Azure customers; many are beginning to spend more than $500,000 a year, and a growing number exceed $5 million in annual spending.
Cautions:
Some Gartner clients with larger-scale implementations have reported significant challenges with Azure adoption; smaller customers may experience the same challenges, but with less severe impact. This is most often because Microsoft's sales, field solutions architects and professional service teams did not have an adequate technical understanding of Azure. Technical support personnel may also lack adequate expertise. The FastTrack program, which provides onboarding support from Azure engineering, results in successful pilots. Customers should use an MSP to execute a more successful implementation, but Microsoft has just begun the process of certifying MSPs; expert, experienced MSPs will be identified in partner directories starting in 3Q18. Many traditional Microsoft partners are trying to transition to supporting Azure, but many do not do so well, so customers should be wary of solicitations from inexperienced partners.

Microsoft Azure's user experience is optimized to deliver ease of use to novices with simple projects, but this comes at the cost of sometimes making complex configurations difficult and frustrating to implement. Customers shouldn't underestimate the expertise required to properly implement Azure in a performant, reliable and secure fashion. Furthermore, multiple generations of solutions, coupled with unclear guidance on when to use each, create significant complexity in determining the right implementation. Most Azure customers use the portal or CLI for manual management, rather than taking a more automated or DevOps approach. DevOps-oriented customers may encounter frustrations with a lack of strong Azure support in some open-source and other third-party tools and software. Visual Studio Team Services supports an agile development life cycle for Azure and should be a preferred solution.

Azure does not have best-in-class infrastructure reliability, although reliability has been steadily improving, and Microsoft continues to invest in reducing disruptive maintenance. Customers indicate most reliability issues are related to virtual networks. Most such issues affect individual customers, not a region as a whole. Customer impact can be reduced with meticulous monitoring and use of a high-availability architecture.
Read the full report from the source link below.
Source: Gartner