.  Coming today to Windows Live Messenger 2011 in the US, UK, France, Canada, Spain, Mexico, Brazil, Italy, Germany, the Netherlands, and Turkey: The Messenger Game Tab.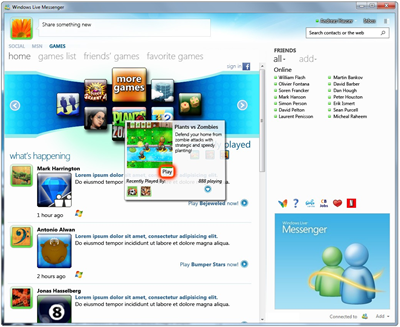 The games tab UI will be localized in all of these markets, but the games themselves will only be in English. More markets will be added later this year.
The games tab centralizes all your gaming activity on Messenger in one view, where you can connect to your Facebook and Messenger friends and add to your casual gaming with social elements like leaderboards, friend feeds, and game updates.
Read more at our partner LiveSide.net here.
Commenting has been disabled on this article by the moderators. If you want to discuss about this article, head over to this link.