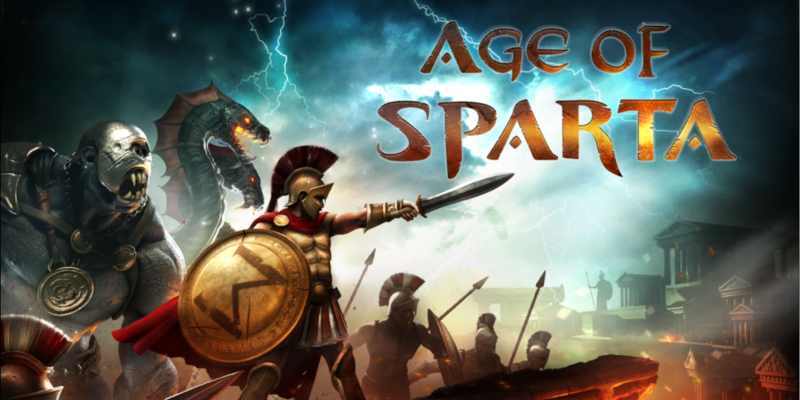 Age of Sparta is a city building, combat based game by Gameloft. It was released a while ago but recently picked up a significant update which fixed some balancing issues, making this a right time to put out a review.
Gameplay
Sparta crisscrosses between two genres of mobile gaming – City Building and Player Versus Player (PvP) combat. In the city building part of the game, you are mostly concerned about earning enough money through income buildings. Then using these coins to build everything from units to housing to faith buildings. If you have played any other city building game with a combat system attached, you already know the rules.
There is also a campaign which dumps loads and loads of text on you. You can easily skip the campaign. Do it to complete quests that pop up at regular intervals.
Alliances and Combat
While the city building portion of the game is standard, rather boring, things start getting exciting once you start taking part in combats. There are two ways of doing this. You can play as a sole member and take on other individuals. Or you could join an alliance or form your own alliance and battle other alliances.
Sparta has some reasonable restrictions on who can join an alliance. For instance, you need to hit level 10 before you can join an alliance. Once you join an alliance, you will have to wait till your alliance hits 10 members before waging war on other alliances. The system is good enough to make sure that complete newcomers won't ruin the party while still gives them enough incentive to keep playing.
Building units for combat is fairly straight forward. The unit building houses are cheap and the units don't cost that much. The game keeps dropping quests and daily surprises that keep you rich even if you don't have enough income buildings. The bounty system is also good enough to keep you full of cash, as long as you are playing regularly.
The game is smart enough to ensure that you are always fighting with peers who are at the same level as you. If you are at level 10, you will most likely face off against those who are between levels 5 and 15. If you are at level 40, you will face off against folks who at least are at level 45. The same goes with alliance battles, where you do have the option to decline war invitations at a minor loss of prestige.
Managing alliances is easy, and communication between members is smooth. Combat allows you to borrow warriors from fellow members or buy it from the store. There is an immensely powerful God unit, which can be levelled up really fast. Although it can give you a significant edge in battle, its real value comes from its ability to recharge without destroying itself.
Levelling Up
As with any game with a persistent world, the higher is your character level, the better will be your gaming experience. You have access to stronger units, better buildings and better defensive structures. You can level up fast without working too hard. For instance, you could spend as little as twenty minutes per day and hit level 30 in less than a month.
If there is one problem with Sparta, it is the lack of help. The in game help system is notoriously useless when it comes to telling you what you need to do. There are small hidden hints that help you if you are already familiar with the basics. The menu layout is confusing and it will be some time before you will know what is where.
That brings us to another problem, that of the chat system. By far, this game has the worst chat filter ever created. For reasons that Gameloft refuses to fix (even in the latest update), the chat system will warn you that the word 'game' is an offensive word. It also flashes a warning for common words like 'got'! No amount of bad reviews has made Gameloft fix their chat system.
Connectivity Issues and Defense
The entire game seems to be inclined towards making life easy for those who wish to attack. No matter how good the opposing team's defensive structures are, even with a decent attack unit, you can take it out. This is good for collecting bounties and city invasions. It makes you feel happy. However, it also hurts when you come back to play the next day, finding that all your defensive structures are destroyed and the money in your vault gone.
Then, there are the connectivity issues. You could be on a standard 2G connection or a high speed 4 MBps connection, the game always takes its own time to load anything. It takes anywhere from 30 seconds to 2 minutes to launch the game. The same happens when you want to wage any sort of alliance battle. The game also experiences serious freezing issues (we are talking high end hardware here such as the Lumia 1520) after the game is launched.
The game uses cloud based saving, which is good. You can play across multiple devices and never lose progress. Still, having to see the "network connecting" loading screen every so often ruins the fun.
Free To Play
Free to play is both a curse and a blessing at the same time. Some publishers take it to the logical extremes but luckily Gameloft is not one of them. The primary currency in the game is gold, and it can be earned easily enough. The pay to win comes in the form of diamonds. Not sure if it is a conscious decision but Age of Sparta has multiple avenues to earn diamonds, and in large numbers.
Clearly, they are not being greedy. Buying diamonds will allow you to progress faster and build better units. However, even if you are just a free player, you aren't seriously handicapped.
Conclusion
Gameloft has always been that one publisher who has made quality games available on Windows Phone. They have maintained that reputation with Age of Sparta. The campaign clearly seems like an afterthought and perhaps the next update will remove it entirely. The PvP battles are great, and the same can be said about the random, daily and weekly quests. It runs well on low end hardware such as 520.
If only they could fix the horrible chat system and those insanely frequent network connection problems, this would be an A+ game. Right now, it will have to settle for a B.
The Good
Levelling system that is not taxing.
Pay to win does not go to extremes.
Combat is fun and interesting.
Loads of random, daily and weekly quests.
Powerful god units.
The Bad
Chat system
Connectivity issues.
Boring campaign
Game version at the time of review: 1.1.0.13 / Device used for review: Lumia 1520
Download Age of Sparta by clicking or scanning the QR code.