If you're a Windows 11 user who is concerned about the recovery of sensitive files and data, you might be wondering, does Windows 11 permanently delete files? Well, to answer your question, yes. There are some methods that allow you to permanently remove a file, leaving no chance for recovery.
In this article, we will explore the basic solution of permanently deleting files through the Recycle Bin or wiping out data from certain drives. So, stick with us till the end to find out whether these methods allow the restoration of files or data.
Permanently Delete files Using Recycle Bin
Once you delete any file on Windows 11, it automatically goes to the Recycle Bin. However, you can easily recover a file from the bin by clicking on the Restore option. In order to permanently delete all files from the Recycle Bin, follow the steps below:
Right click on the

Trash icon

from the desktop.

From the context menu, select

Empty Recycle Bin

.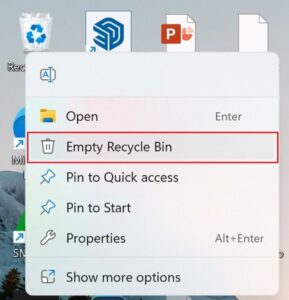 This will delete all the files currently residing in the bin.
Permanently Delete files Using a Keyboard Shortcut
Another method to permanently delete files without sending them to the Recycle Bin is directly through the File Explorer. Follow the steps below to do so:
Open

File Explorer

.

Locate the file you want to permanently delete.

Select the file, then press

Shift

+

Delete from your keyboard.



Finally, click

Yes

in the confirmation prompt that appears.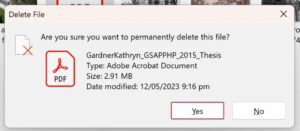 Once done, the file is permanently deleted and cannot be restored through the Recycle Bin.
Permanently Delete files from Removable Drives
By default, USB or other removable drives do not come with a Recycle Bin option. Hence, any file deleted from this space gets permanently removed from your computer.
Conclusion
So, through the methods mentioned above, you can permanently delete files on Windows 11 and protect sensitive data from possible extraction.
If you have any questions, feel free to reach out to us by using the comment section below.