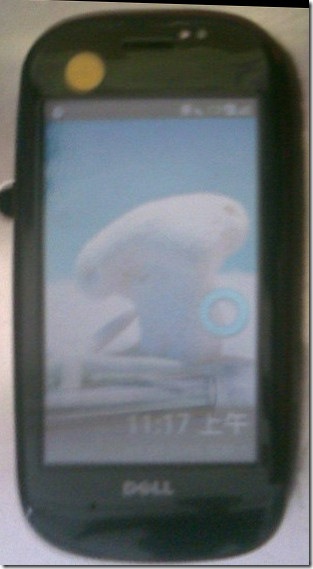 The rumours currently suggest the long-awaited Dell smartphone will be launching this some time week in China.  The device remains wrapped in mystery, with the only evidence this picture above of the purported device.
One question which has fascinated everyone is which OS the device runs on. Windows Mobile is of course in the running, but Android is seen as the hot leader, mostly because the blogosphere cant contemplate otherwise.
The above picture does not appear to offer much clue, but one observation immediately struck me – the device's screen appears to have a ratio of 1:1.66, which fits in with WVGA screen now common with Windows Mobile.  This is also very unlike the 1:1.5 screen resolution which has chacterised the 320×480 screens that every Android device has had so far.
Based on this small but telling feature, if the above device is indeed the Dell smartphone, it is extremely likely it will run Windows Mobile rather than any other mobile OS. If the rumour is true we should know within the next 7 days.
Agree or disagree? Let us know in the comments.