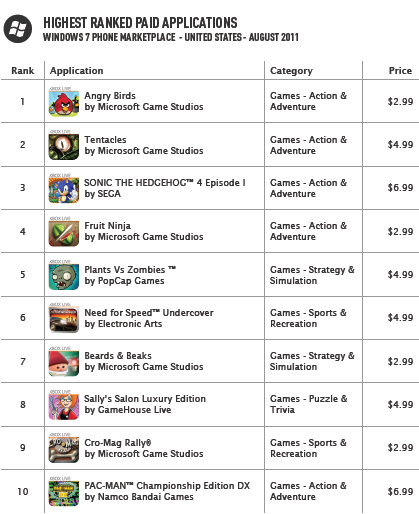 Distimo has released their monthly app store report, and while there was not much interesting to report for Windows Phone 7, there was one thing which struck me about the top 10 list of paid apps – they are all Xbox Live titles.
The whole list consists of Xbox Live games , and quite a few are published by Microsoft Game Studios, meaning Microsoft is receiving a bigger than 30% share of the income of the games and is in fact profiting disproportionately from Marketplace compared to other developers.
This is in sharp contrast to the other app stores, where it is rare to find applications published by the owner of the app store as paid apps at all, not to mention dominating the list.  The only exception is the Apple App Store for Mac, where 9 out of the 10 apps are Apple apps.  In the iPhone app store none of the top 10 apps are by Apple however.
While I suspect Microsoft at this stage is investing a lot more in bringing these apps to Windows Phone 7 that they are receiving, I can foresee a future, 12 months from now, when Microsoft makes a more than tidy income from Marketplace, unfortunately by competing with their regular developers.
See the Distimo August report here.