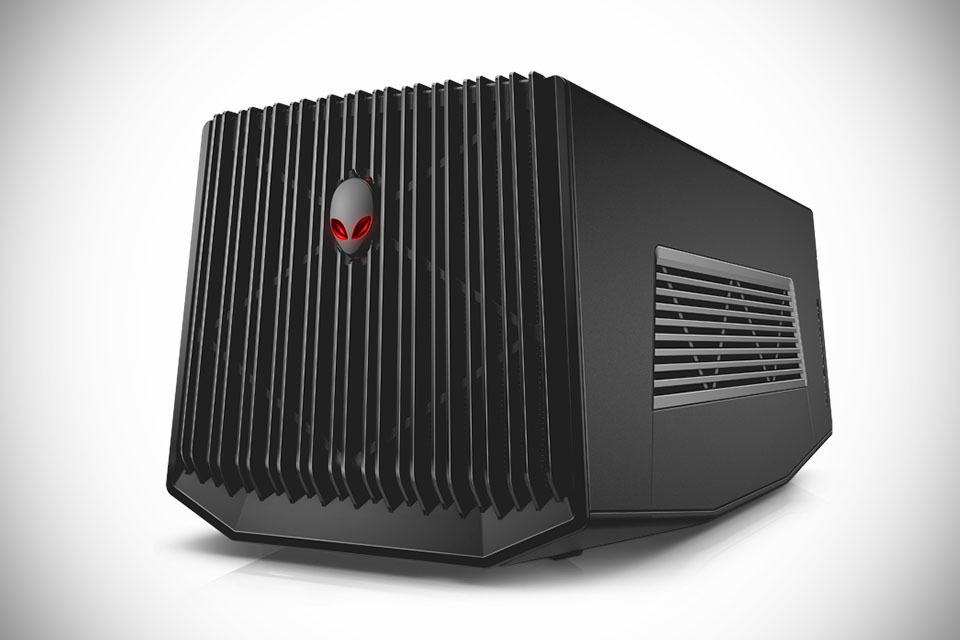 Along with the new Alienware laptops, Dell today highlighted the new Alienware Graphics Amplifier , a plug-in companion to Alienware notebooks. The Alienware Graphics Amplifier allows you to enhance your Alienware 13, 15 and 17 R2 & R3 notebooks at home, transforming it into an upgradable, desktop-class gaming station.
Alienware 13, 15, 17 R2 and X51 R3 can power up to three displays, including its own LCD. When you connect it to the graphics amplifier and you can power as many additional screens as the graphics card within the graphics amplifier can support. The performance from the Alienware Graphics Amplifier will be used on whichever screens the game or 3D application is running on.
The Graphics Amplifier comes with support for full-length, dual-wide graphics cards requiring up to 375W and provides even more connectivity to your setup with a built-in, powered, 4-port USB 3.0 hub. The graphics amplifier includes a 460 Watts internal power supply so you can run advanced graphics cards confidently. It is designed with a single cord that connects exclusively to the Alienware 13, 15, 17 R2 notebooks and X51 R3 PC.
Highlights:
Amplify your performance: Step up your graphics performance with support for a full-length, double-wide, desktop graphics card.
Hook up your favorite displays: The graphics amplifier allows you to enjoy the performance of the desktop graphics card on your Alienware 13, 15 and 17 R2 & R3 notebooks LCD or on any external display connected to the amplifier.
Plug into a battle station: The Alienware Graphics Amplifier connects to your notebook with a single cable enabling the PCI-Express graphics card connection as well as your four USB 3.0 ports to be connected with less clutter and simple connectivity.
Unlock the new world of VR gaming on your notebook: By increasing your graphics performance the Alienware Graphics Amplifier can unlock the exhilarating world of VR gaming on your 15 & 17 notebooks and X51 R31