Anthropic Launches Claude Pro to take on Open Ai's ChatGPT Plus [Comparison Table]
3 min. read
Updated September 7th, 2023
Published September 7th, 2023
---
Readers help support MSPoweruser. When you make a purchase using links on our site, we may earn an affiliate commission.
Read the affiliate disclosure page to find out how can you help MSPoweruser effortlessly and without spending any money. Read more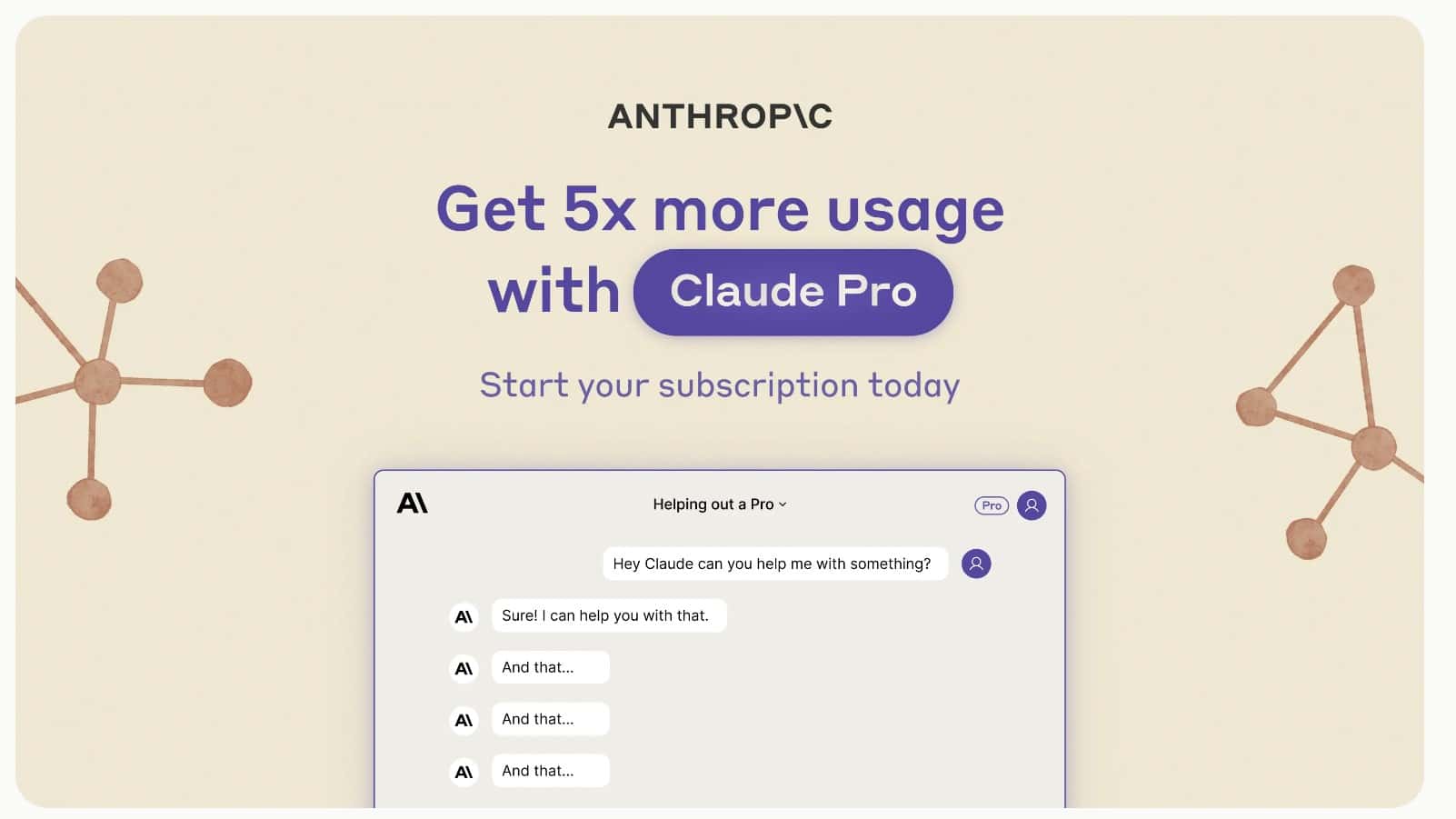 In the ever-evolving world of AI, Anthropic has just thrown down the gauntlet with the introduction of Claude Pro, a paid version of its already impressive chatbot, Claude 2. While ChatGPT has been basking in the limelight, Claude 2 has been silently sharpening its claws, ready to pounce. And pounce it did, with a context capability that leaves ChatGPT's 32K tokens in the dust, boasting a whopping 100K tokens. That's not just a leap; it's a quantum jump!
Anthropic, founded by ex-OpenAI aficionados, isn't just playing catch-up. They're setting the pace. Their recent poll among users revealed a willingness to shell out $25 monthly for a subscription. And why not? Claude Pro promises at least five times more usage than its free counterpart. It's like upgrading from a bicycle to a sports car.
But what's the real deal with Claude Pro? For $20 (or £18 for our friends across the pond), users get more than just extended chat sessions. They get priority access during those pesky high-traffic times and a first-class ticket to any new features Anthropic rolls out. It's like being in an exclusive club, minus the secret handshake.
Now, while the large context window of over 100K tokens is Claude 2's pièce de résistance, it's also a bit of a diva, demanding high computational power. But the results? Worth every byte. This feature allows Claude to generate richer, more nuanced responses, making it a formidable contender in the chatbot arena.
Yet, no AI is perfect. Anthropic candidly admits that Claude, like a mischievous child, can sometimes spew out nonsensical or incorrect answers. But they're on it, refining and enhancing Claude's capabilities with each iteration.
In the grand scheme of things, Claude Pro's introduction signifies more than just a new product. It's a statement, a challenge to giants like ChatGPT and Google's Bard. With a war chest of around $1.5 billion in funding and a mission to create AI that's "helpful, honest, and harmless," Anthropic is clearly in it for the long haul.
In conclusion, while ChatGPT might have been the talk of the town, Claude Pro is the new kid on the block, turning heads and setting tongues wagging. And as the AI landscape continues to shift and evolve, one thing's for sure: the chatbot wars have only just begun.
Claude Pro vs ChatGPT Plus [Comparison Table]
| Feature/Aspect | Claude Pro | ChatGPT Plus |
| --- | --- | --- |
| Price | $20/month | $20/month |
| Context Capability | 100K tokens | 32K tokens |
| Usage Limit | Resets every 8 hours | 50 messages every 3 hours (for GPT-4) |
| Priority Access | During high-traffic periods | Not specified |
| Early Access to Features | Yes | Not specified |
| Attachment Handling | Can handle extensive conversations with large attachments | Not specified |
| Training Method | "Constitutional" training method | Reinforcement Learning Through Human Feedback |
| Founding Team | Ex-OpenAI researchers | OpenAI team |
| Funding | Raised over $400 million (led by Google) | Backed mainly by Microsoft |
| Main Goal | Helpful, honest, and harmless AI | Advanced AI with human-like interactions |