When Microsoft launched its first Surface device, a lot of people were pretty sceptical about its success. After almost 5 years, the Surface brand has really taken off. Following the success, a lot of companies launched their Surface clones in the market, including Apple, Google, and even Xiaomi. Now, Chuwi, a company you probably never heard of also has its own Surface clone: the Chuwi Hi12.
The Chuwi Hi12 is one of the cheapest Surface clones that you can buy. It's not really a Surface clone though, as it does not include a kickstand. However, it has some decent specs, but, of course, the experience is worse than what you would get on a Surface. Similar to the Surface, the Chuwi Hi12 comes with a keyboard which you can attach to the tablet, but you have to buy it separately. So, how is the Hi12? Let's find out.
Design
The Chuwi Hi12 has an all-metal unibody design. Of course, having a metal unibody doesn't make a device look prettier but the Chuwi looks pretty good. Unfortunately, though, it's not perfect. Both the tablet and the detachable keyboard feel really good in hands. However, the display bezel is quite huge and it's not something that you would expect to see in 2016.
Moreover, the Chuwi Hi12 has a major design flaw. Similar to the Surface Book, when you attach the tablet with the keyboard and type something, the display will start to wobble a little bit. Additionally, when you are typing with the device on your lap, you will have a hard time handling the device as the display seems to be heavier than the actual keyboard – making it really hard to use in your lap.
The keyboard's design is pretty sleek, but it feels really cheap. First of all, the trackpad on the keyboard is just too small, and you will struggle to scroll webpages because of the tiny space. However, Chuwi has done a great job designing the actual keyboard. The keys on the keyboard are well spaced, and typing on the keyboard feels pretty good. It is worth noting that in our review unit, the space bar in the keyboard didn't feel really great – however, Chuwi tells me that it's just an issue in our unit, so that's definitely good news. The keyboard is sold separately sold for $100, and in my opinion, this keyboard's quality simply isn't worth $100.
In terms of weight, the Chuwi Hi12 is quite heavy. With the keyboard attached, the device weighs roughly 1.5kg, and that's quite a lot for a 2-in-1 device. Without the keyboard the actual tablet weights in around 800grams, which is, again, quite heavy for a tablet. Additionally, the device is also quite thick with the keyboard, which is slightly disappointing. Obviously, that might not be a problem for some as the device is pretty much a full-fledged computer as it includes USB Ports, a microSD card slot, and of course, a desktop operating system.
The Chuwi Hi12 looks pretty premium, but it has some flaws which could radically affect the user experience. When compared to the Surface Pro devices, the Chuwi Hi12 is actually pretty good, considering the fact that it only costs $360.
Display
The Chuwi Hi12 packs a 12-inch IPS screen with a resolution of 2160×1440 pixels and 3:2 display ratio. As you may expect, the device includes a touch screen, which is definitely a plus point. The display of the device produces pretty vibrant colors, but the blacks aren't really deep which is a bit disappointing. In terms of the touch input, the Hi12 display is flawless. Viewing angles on the display isn't bad either, which is pretty nice, too. In terms of multi-touch capabilities, the Chuwi Hi12's display does not disappoint either.
As I noted previously, the bezels on the device are quite huge, which could disappoint a few users. Additionally, it is also worth mentioning that the display will wobble a little bit when you interacting with the OS with touch while it's connected to the detachable keyboard.
The device's display is pretty good for a $360 2-in-1 device, to say the least. You won't get an amazing display like you would on a Surface or an iPad Pro, but the Hi12's display is definitely good enough for the price.
Performance
If you are looking for a tablet just to do some basic tasks such as watching movies, or writing an email, the Chuwi Hi12 should not disappoint. The device packs a Quad-core Intel Cherry Trail Z8300 processor, clocked at 1.44GHz and 4GB of RAM. Navigating around the operating system feels pretty smooth on the Chuwi Hi12, and you should not experience a tonne of lag. Multi-tasking is also quite smooth, although you might experience a bit of lag at times. I have bene using the split-screen on the Hi12 quite heavily since I got the device, and it the device was able to handle that pretty smoothly – at least in my testing. Of course, there might be some lag when you are multitasking between Win32 apps, but the modern, Universal Windows Apps are quite smooth and perform really well on the Hi12. It is worth noting that you may start to experience a bit of lag while switching between apps and frame drops might also occur after using the device for 70-80 minutes.
In case you are wondering about gaming on the Hi12, you might be a bit disappointed. Obviously, heavy games such as Counter Strike are mostly incompatible on the Hi12 but there are some nice Universal Windows Platform games that are available in the Windows Store which works pretty well. As per usual, I have tried out games like Asphalt 8, and that wasn't a bad experience. However, the graphics on the game was pretty bad and I did experience a bit of lag after playing it for about 15 minutes. If you are not planning to play games like Asphalt 8, the Hi12 should not disappoint you as it runs games like Crossy Road and Candy Crush fairly smoothly.
The Chuwi Hi12 is a device that can tackle basic tasks pretty easily. When it comes to tackling heavy tasks, the device might be a bit disappointing. However, the device's performance should not be very disappointing when you do basic tasks such as watching a movie, playing Windows Store games or just browsing the web. The performance isn't impressive, but it's good enough. At least for a $360 device.
Others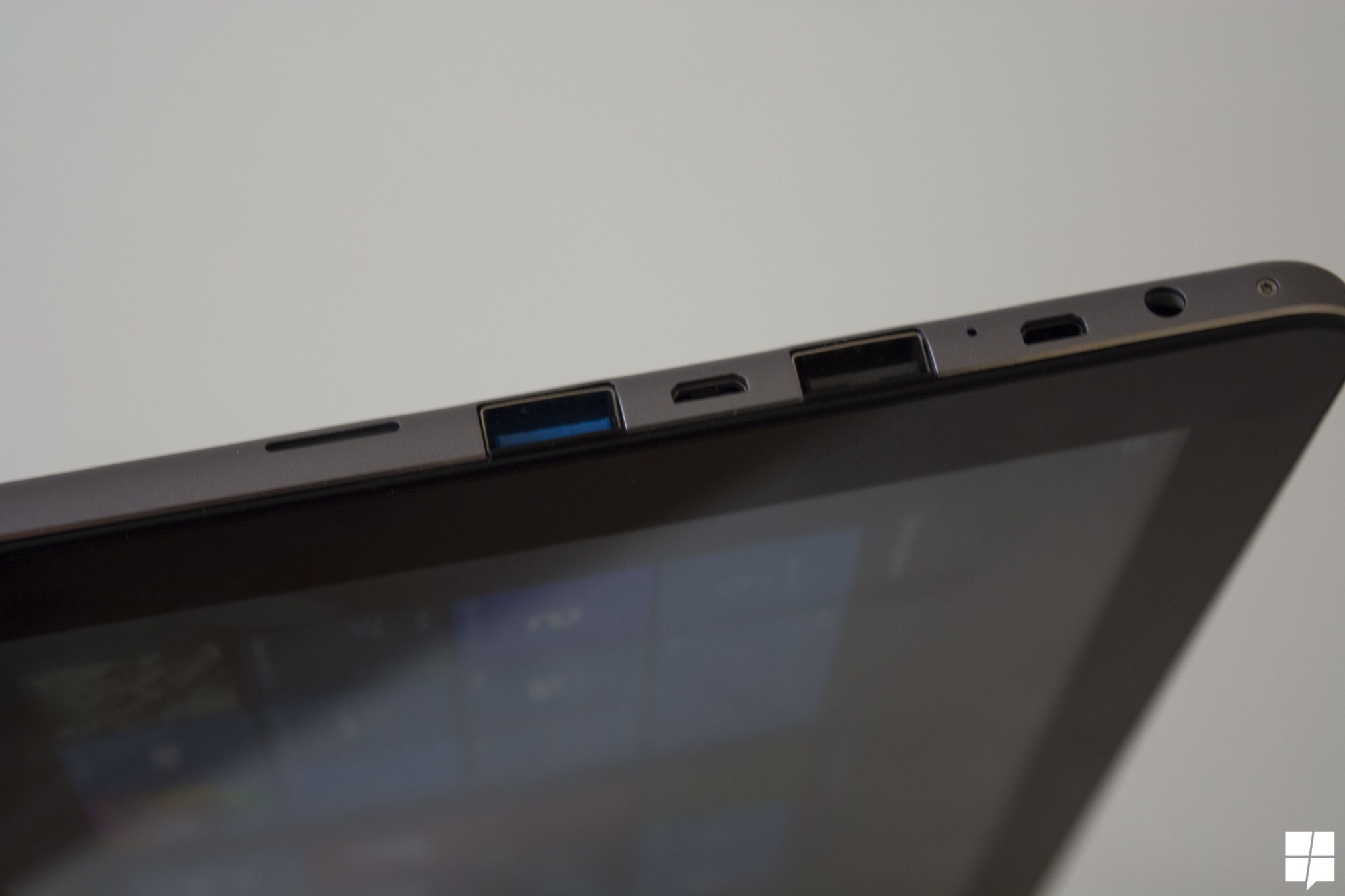 The Chuwi Hi12 has a tonne of features that are pretty good and worth mentioning about. First up, is the ports. The device has a tonne of ports, and that is really impressive. You get two USB Ports, one is USB 2.0 and the other is USB 3.0. As usual, there is a port for your headphones, and a mini HDMI port, which is pretty nice too. In addition to this, the device also includes a micro USB port, which is mostly needed for charging the device. In addition to this, Chuwi has also included a micro SD card slot, which is also really nice if you want to expand the storage (internal storage is 64GB, which isn't bad, but you can expand it to 128GB if you would like with a microSD card).
But wait, there are more ports! Chuwi has included 2 more USB ports in the keyboard, which is something I hope Microsoft will include in the upcoming Surface Pro device. Chuwi also included a front-facing camera and a rear camera on the Hi12. Now, don't get too excited about these cameras as they are really poor. The rear camera is 5MP, and the pictures taken with the device aren't impressive at all. The pictures are not detailed at all, and they look pretty bad – even in good lighting conditions. As for the front camera, the story isn't really good either. But then again, you probably won't be taking pictures with a 12-inch tablet.
As for the OS, Chuwi is packing Windows 10 Pro 64-bit with the Chuwi Hi12, which is really great. Windows 10's spilt-screen feature is really nice, and something that is a necessity on a tablet like the Hi12. Windows 10 also packs things like Cortana, Universal Windows Apps, and Microsoft Edge, which are also some great features of the OS.
The Chuwi Hi12's battery is also pretty good. The device packs a 11000mAh battery, which should offer about 5-7 hours of battery life. In my testing, the Hi12 offered around 5 hours of battery life, which isn't really bad but Chuwi could have slightly improved it if they wanted to. Once again, if you only plan to do basic tasks such as reading emails or browsing the web, the battery should last around 6 hours – however, if you plan to push the device a bit more, you will get around 4-5 hours of battery life which, to be honest, isn't impressive, nor disappointing.
For those wondering, the speakers in the Hi12 aren't disappointing, which is pretty good. The sound produced by the speaker is pretty loud, and it should not disappoint you.
Conclusion
The Chuwi Hi12 is a beautiful device, with a good enough display, a poor trackpad, loads of ports, a good processor, poor cameras, and a good speaker at only $360. It is worth noting that the keyboard is sold separately, which is a bit disappointing as that costs $102 extra.
Don't get me wrong, the Chuwi Hi12 looks like a premium device, but it won't provide a Surface-like experience. If you are looking to get a Surface Pro, the Chuwi Hi12 would be an ideal test bed.