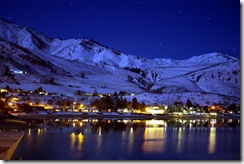 Mary-Jo Foley from the ZDNET all about Microsoft blog has been pretty active when it comes to Microsoft's mobile division.  Today her post was all about Windows Embedded CE 7.0, Microsoft's successor to Windows CE 6.  Windows CE 5 forms the foundation of Windows Mobile 6.1 and 6.5, but Windows CE 6 has not seen much application in the consumer mobile space, and there is some speculation that Windows Mobile 7 will skip Windows CE 6 completely and move onto the new 7 kernel completely.
So what is Chelan all about.  Little is know about the operating system, beyond snippets from Microsoft's blog posts.  From these we can conclude that the OS will have a much improved UI and graphics framework, something which is definitely needed to be competitive these days.
As noted in this TechEd agenda item:
Windows Embedded Compact will introduce the tools to enable developers, with the help of designers, to deliver really immersive user experiences quicker and easier than previously possible.
But what else is know.  From earlier articles we can see there are further technological innovations in the OS besides the graphics side:
Chelan is to support the following key features.
   – Dual Core Support (SMP, ARMv6)
   – Visual Studio 2008 Plug in
   – WIFI Positioning System
   – Bluetooth 2.1
   – Cellcore
   – DLNA (Digital Living Network Alliance) 
    -DRM
   – Media Transfer Protocol
   – IE7 Rendering Rich Media Plug-Ins
   – NDIS 6.1 support
   – UX C ++ XAML API using technologies like Windows Presentation Foundation and Silverlight for attractive and functional user interfaces
   – Touch Input
As can be seen from the list the OS is set to be rather full featured, and seemingly addresses many aspects we associate with Windows Mobile 7, such as a User Experience and User Interface focus with the help of Silverlight and also a focus on media, suggested by the inclusion of MTP.
At present we can only speculate, but I suggest its quite likely, unlike Mary-Jo concludes, that Windows CE 7 will indeed form the foundation and heart of the Windows Mobile 7 experience, and that this may very well be what has been delaying the arrival of the OS.
Convinced, or have information one way or the other?  Let us know in the comments below.