Canon Photo Recovery | Recover Photos From Canon Camera
9 min. read
Updated September 26th, 2023
Published September 27th, 2023
---
Readers help support MSPoweruser. When you make a purchase using links on our site, we may earn an affiliate commission.
Read the affiliate disclosure page to find out how can you help MSPoweruser effortlessly and without spending any money. Read more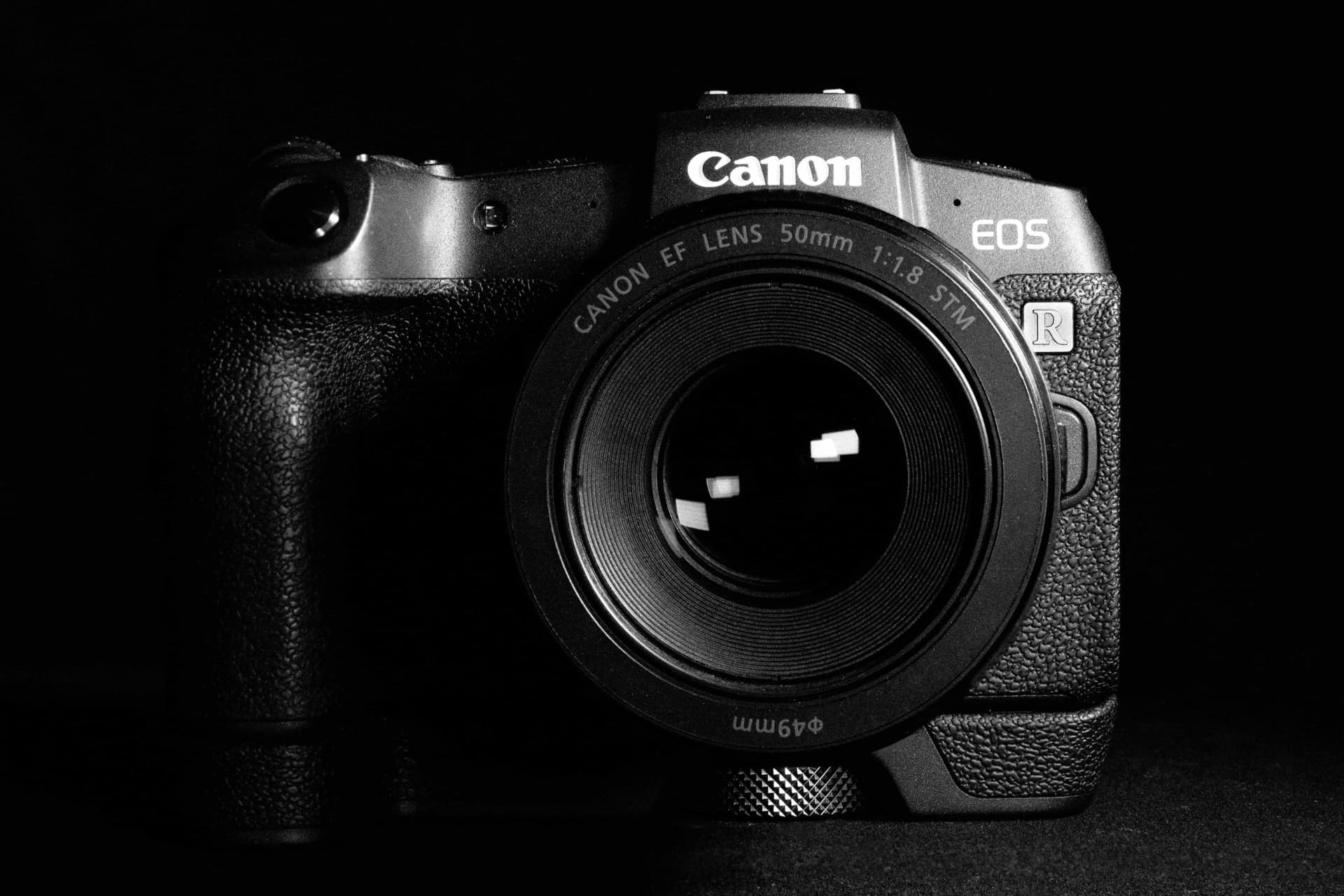 Canon Photo Recovery | Recover Photos From Canon Camera
Recover deleted photos and videos from any Canon camera using the solutions mentioned in this article.
Canon's rich history, strong brand reputation, a wide range of products, including digital cameras, camcorders, other imaging devices, lenses, printers, and others, and great marketing has made Canon.Inc. one of the leading Camera manufacturers in the industry, with a market share of 45.8%. According to various estimates and reports.
But no matter how advanced the Canon camera becomes. One of the main problems that has remained constant is the dreaded issue of "Data Loss." Losing the pictures and videos of some of our most memorable moments can be terrifying.
This article examines several causes of data loss, offers quick solutions, and, most importantly, walks you through several methods for recovering data from any Canon camera.
Canon Camera Models and Supported Storage Devices
Canon Camera Models
Supported Storage Devices
Native File Types/Formats
Mirrorless Canon Cameras (EOS
Series)

SD Cards
CompactFlash Cards
CFexpress cards
MicroSD cards (in some models)
UHS-II SD Cards (in some models)

RAW File Formats: CR2, CR3, CRW, Dual Pixel RAW (Some Models)

Compact Cameras (Powershot
Series)

SD Cards
SDHC cards
SDXC cards
MicroSD cards
UHS-II SD Cards (in some models)

RAW File Formats: CR2, CR3, CRW

DSLR Cameras (EOS Series)

SD Cards
SDXC cards
MicroSD cards
CompactFlash cards
CFexpress cards

RAW File Formats: CR2, CR3, CRW, Dual Pixel RAW (Some Models)
Common Reasons Behind Loss of Canon Camera Photos and Videos
One of the most common issues that almost all Canon camera users face at some point or another is the issue of data loss. Every single year, thousands and thousands of Canon camera users lose their data because of various reasons, such as
Reason
Explanation
Quick-Fixes
Human error or mistakes
Accidentally deleted a few or all of the photos and videos from the Canon cameras.
Abrupt removal of the connected SD cards or CF Cards while the data saving/transfer process is in progress.
Stop using the storage device immediately to prevent data overwriting, and remove the device from your Canon camera.
File System Errors and Formatting
the Storage Device
When the SD card is pulled while the camera is on or when the writing process is going on, it can also happen due to shutting off the camera during the data writing process. Accidentally or intentionally formatting the storage device without backup leads to permanent data loss.
Use a professional data recovery tool
Firmware corruption
Using incompatible storage devices, incompatible file systems, outdated firmware, read/write errors
Try updating the firmware, try connecting storage devices with another file system to your computer
Virus or Malware infection
Connecting or using storage devices infected by viruses or malware.
Run an antivirus scan to get rid of viruses and other malware
Physical damages
The SD card might have gotten physically damaged due to improper handling, wear and tear, and exposure to extreme temperatures.
SD card is not getting detected: Connect the SD card or storage device to your system using a different card reader. If it is connected or displayed on your system, the issue is with your old card reader.
Irrespective of why you have lost your precious memories captured using any Canon camera. This in-depth article provides solutions to help you with Canon Photo recovery.
How To Recover Data From Canon Camera SD cards?
The methods mentioned in this section can help you recover photos, videos, and RAW images of any file type from any Canon camera and storage device.
1. Recover Canon Deleted Pictures From Backups (External/Cloud Backups)
One of the easiest ways to recover deleted photos from a Canon camera Is by checking if you have taken a prior backup of those files.
You might have manually taken a backup of those files or used specialized tools like Windows Backup and Restore utility, or, if you are a Mac user, you might have used the Time Machine utility to take a backup and saved those files on any other external storage device or Cloud.
Then, we recommend you restore and use the backup copies of deleted or lost Canon photos or videos.
How To Restore Backup Copies of Deleted Canon Photos?
image.canon Backups:
image.canon is a cloud-based service that allows Canon camera users to save, store, organize, and move their photos and videos to any computer or device over the internet.
Suppose you have saved and uploaded your photos and videos to the image.canon cloud, then we recommend you restore those files.

External Devices:
Suppose you have taken a backup and saved it on external hard drives or other storage devices. Then, you can move or transfer the files from the drive to any different location.
Cloud Backups:
Suppose you have saved the Backup copies of photos and videos taken using any Canon camera on the Cloud, such as OneDrive, Google Drive, iCloud, or Dropbox.
Then, you need to log in to your account, find the files that were deleted or lost, and download them to your system.
Limitations of Restoring Backups
One of the most significant drawbacks of the backup restoration method is that it might only be helpful if you have taken any earlier backup.
If you have not taken any backup of the lost Canon data, then worry not. The following solutions can help you with Canon SD card recovery.
2. Freeware Tools To Recover Photos From Canon Camera ForFree (PhotoRec)
PhotoRec is a free data recovery software because it allows Canon users to recover their photos and videos shot on a Canon camera. Apart from being completely free, it is also compatible with major operating systems, including Windows, Mac, Linux, etc.
Limitations of the PhotoRec Tool
It's a command line utility, which might be troublesome, especially if you are a technophobic or new user who doesn't understand the data storage or recovery process.
Sometimes, the tool might prove unreliable, even though the creator claims that the tool can recover almost all files. But it largely depends on various factors such as the type of file you want to recover, the condition or the quality of the storage devices, the reason behind the loss of data, etc.
Even though the tool is free, you must download, install, and use an authentic version. Using a pirated version might do more harm than good.
While free data recovery software may seem appealing, it often lacks a paid professional recovery software's technical support and advanced recovery capabilities. These limited capabilities reduce your chances of successfully recovering data. Hence, for best results, it is recommended to use professional data recovery software.
Though you pay a fee, the technical expertise and more sophisticated data recovery methods are worth the cost when recovering lost files is critical.
3. Professional Photo Recovery Software To Help You Recover Deleted or Lost Data From Canon Camera
After researching several paid data recovery options, Remo Recover stands out for its technical support assistance and advanced recovery options to recover data. Hence, we are using Remo Recover to recover deleted photos from Canon Camera.
How To Recover Deleted Photos from Canon Camera Using Remo Recover?
Step 1: The users need to download, install, and set up Remo Recover for Windows if they are a Windows user or Remo Recover for Mac if they are a Mac user.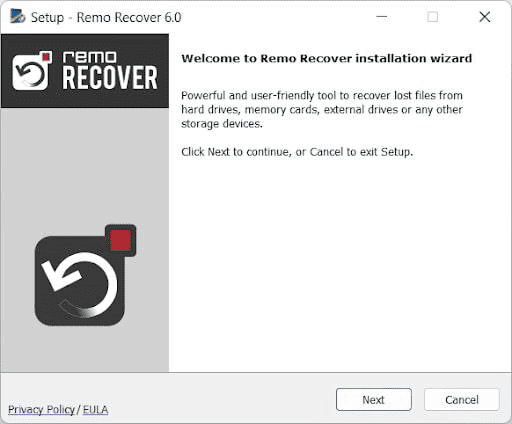 Step 2: Connect the SD card, Memory Card, or other storage device where you have stored the photos or videos captured using the Canon Camera.
Step 3: You need to launch the tool now, and from the main screen, you need to select the SD card from where you want to recover the deleted, lost, missing, or formatted photos. Select the SD Card and click on the Scan button. To start the SD card drive scanning process.
If the drive is damaged, it might not be displayed on your screen if the connected drive isn't shown on your screen. Click on the Can't find the drive? Option.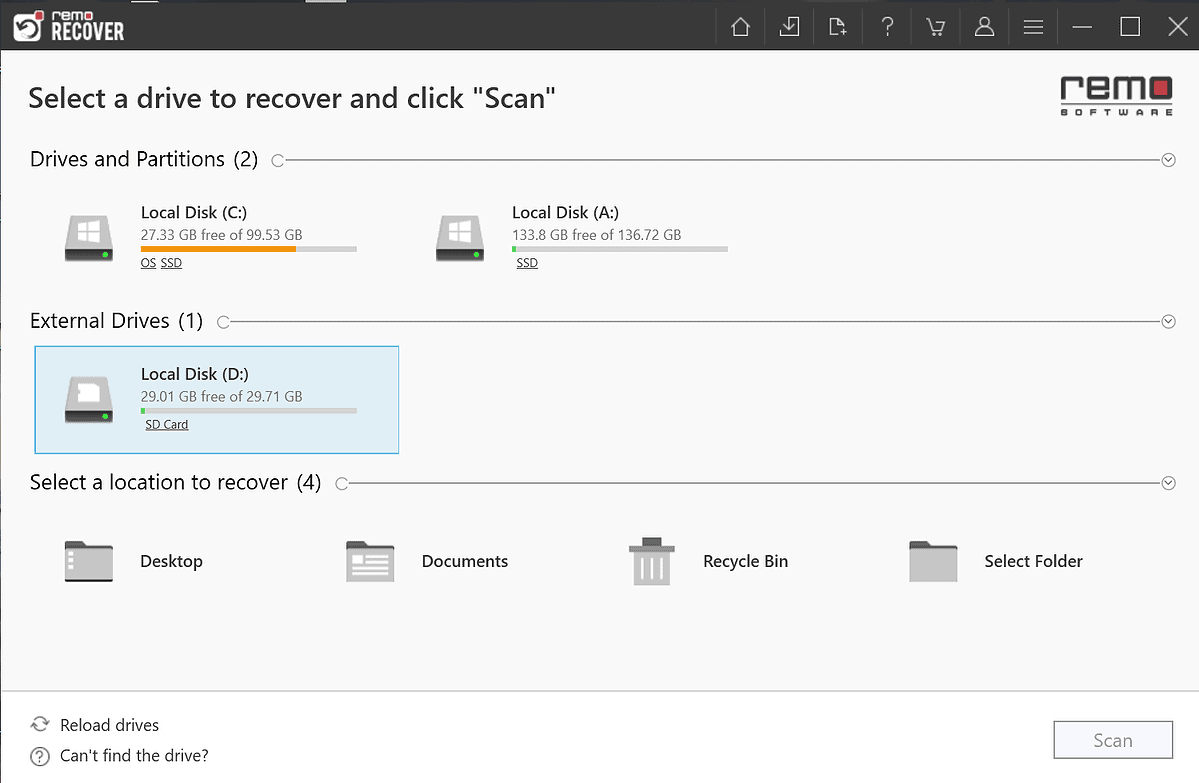 Step 4: The tool now starts scanning the connected drive. One of the best features of Remo is the Dynamic Recovery View option. The option lets you view the Canon photo recovery process while the tool is still deep scanning the drive.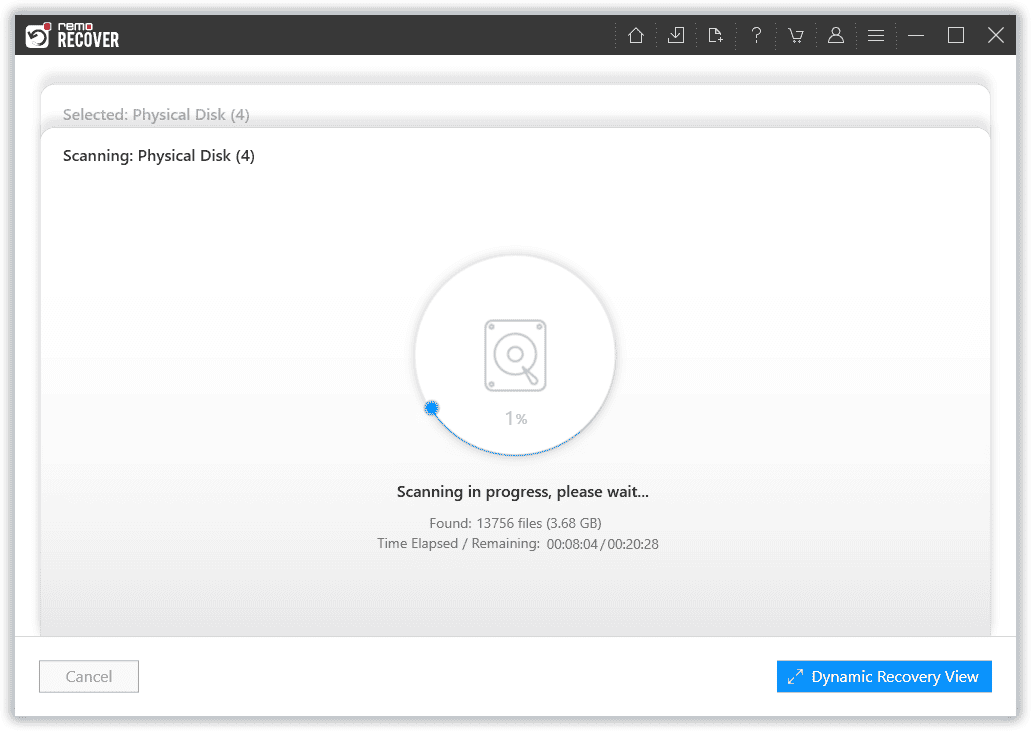 Step 5: Now, the tool will display photos, videos, and other recovered data from the selected drive.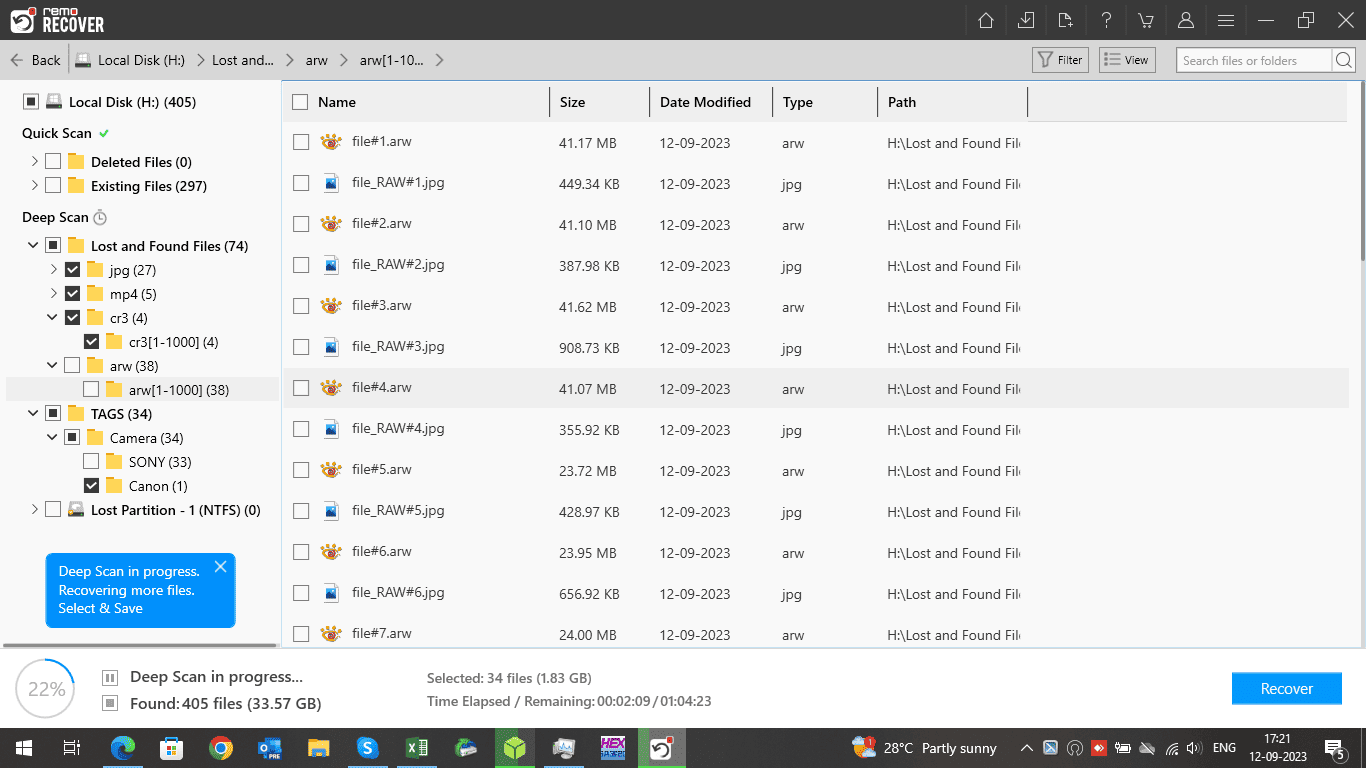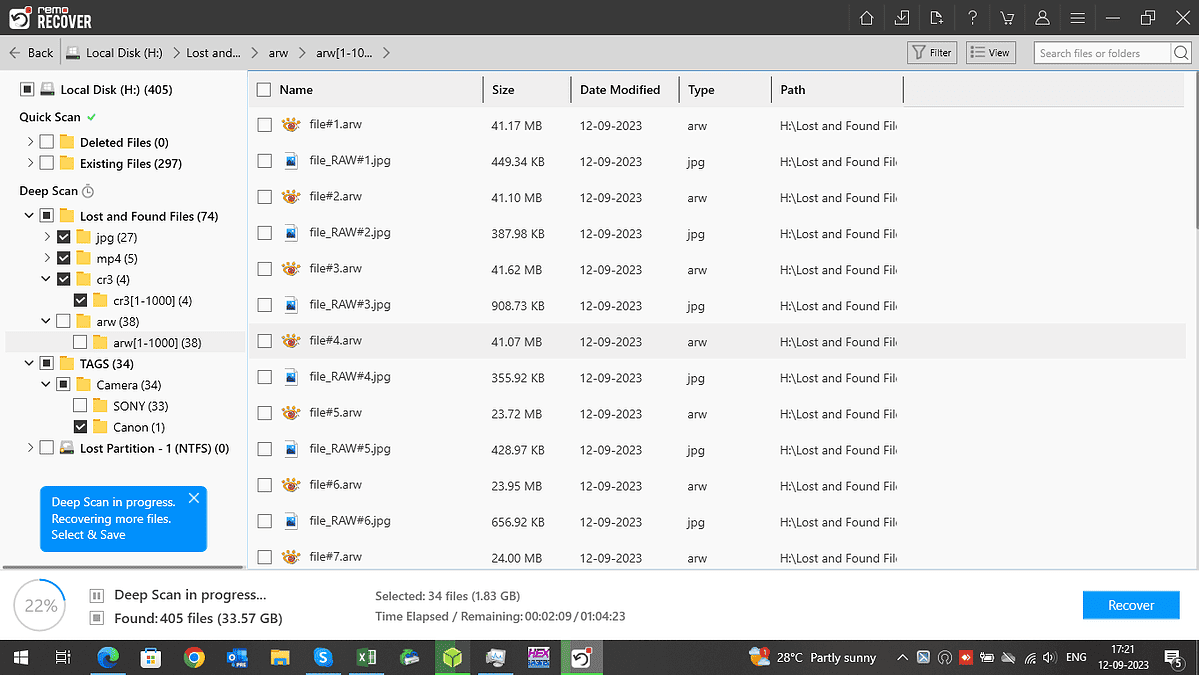 Step 6: The tool has an Advanced Filter option to help you quickly sort and filter files based on file types and other criteria.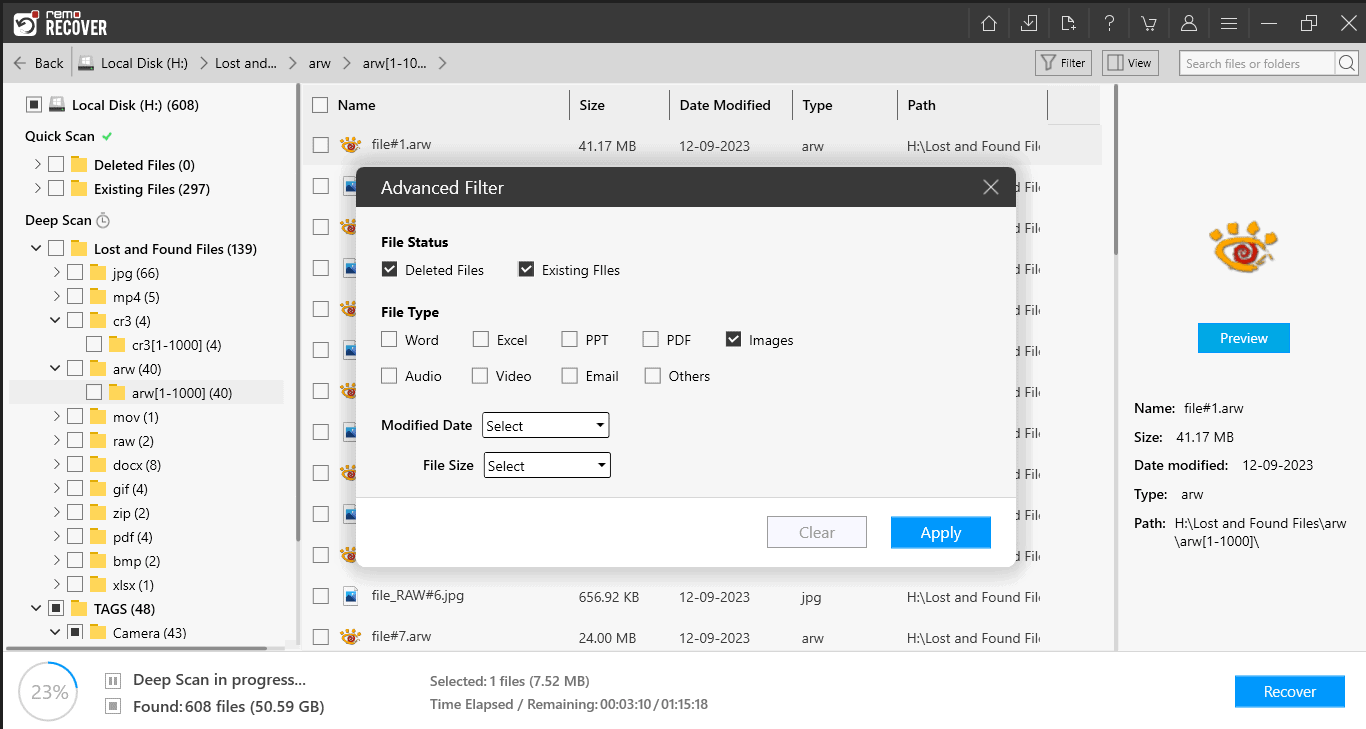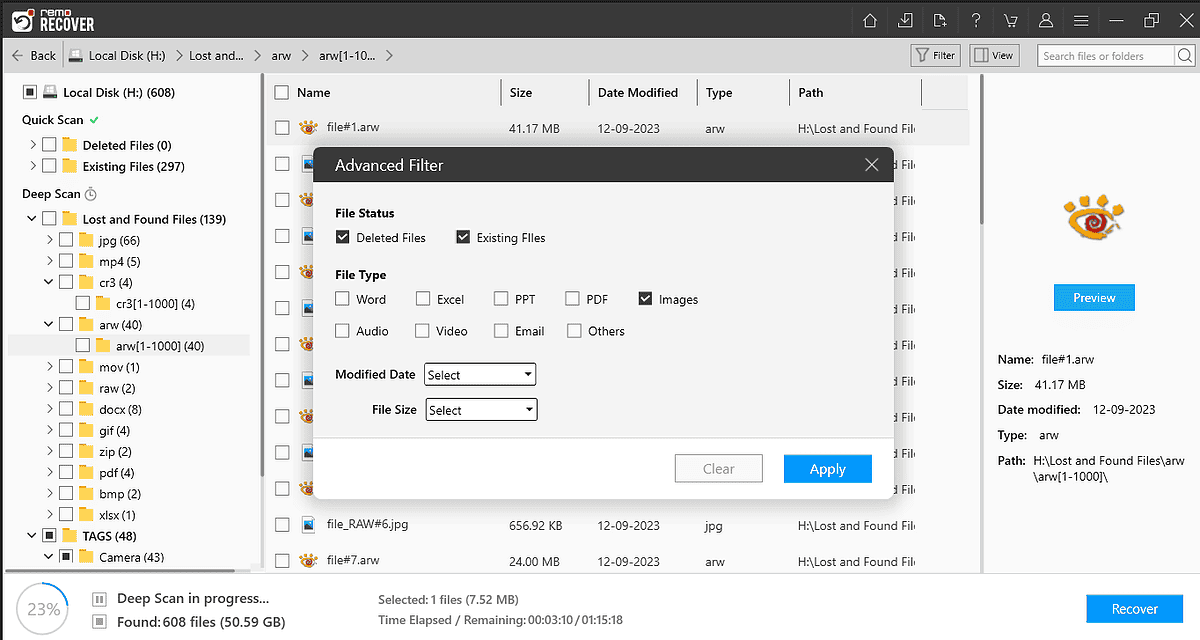 Step 7: The users can use the Preview option to quickly preview the recovered photos and videos from the Canon SD card.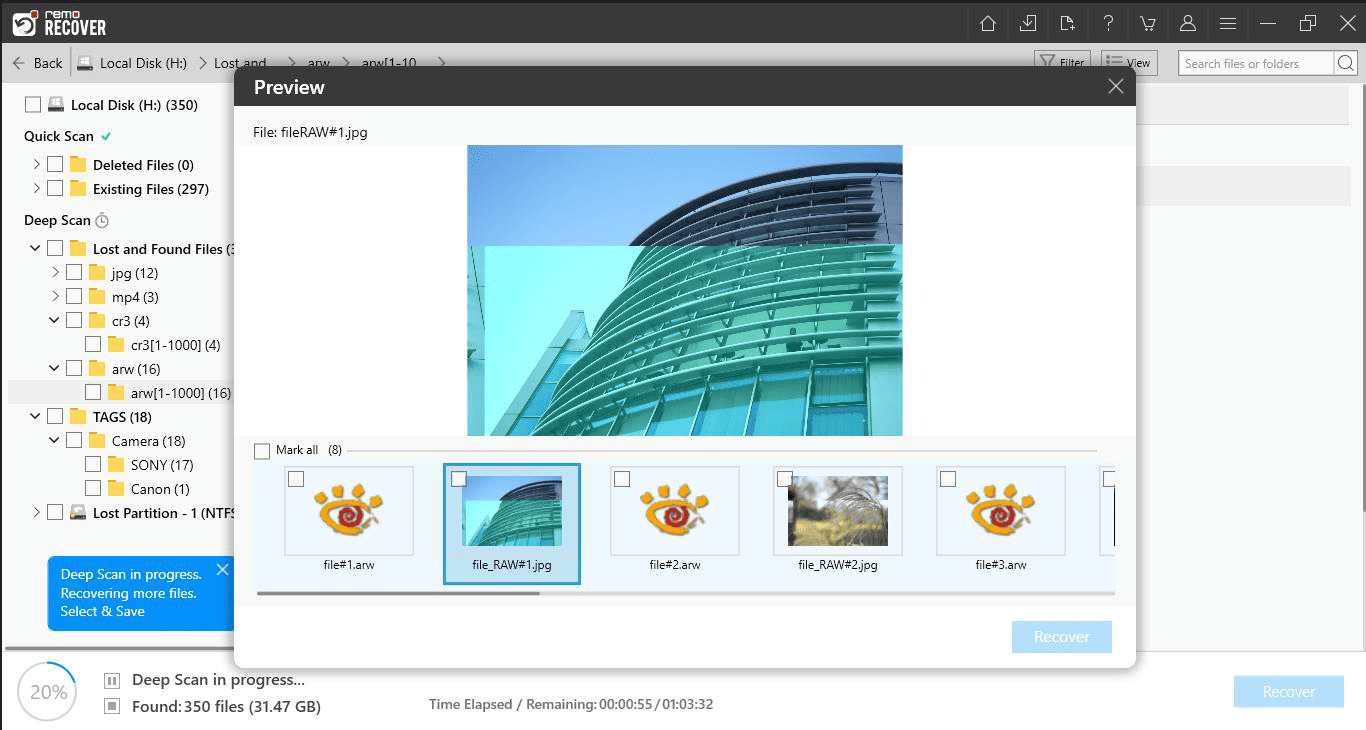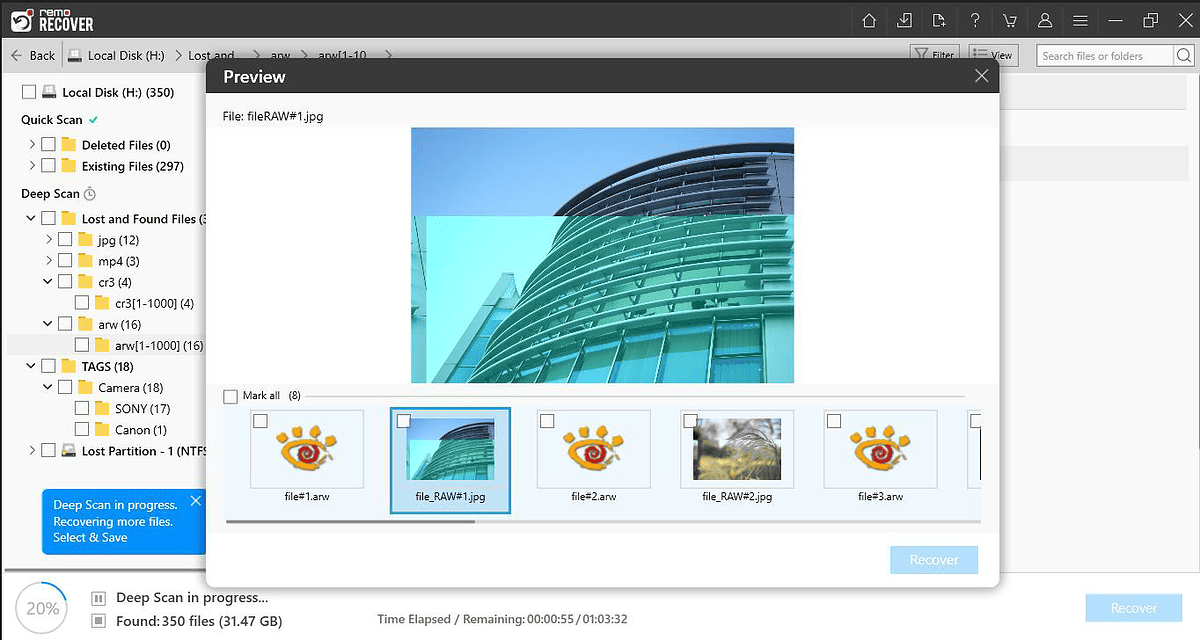 Note: The RAW files cannot be previewed using the Remo.
Step 8: Upon completing the entire drive scan and previewing the files, users must select the files they want to recover.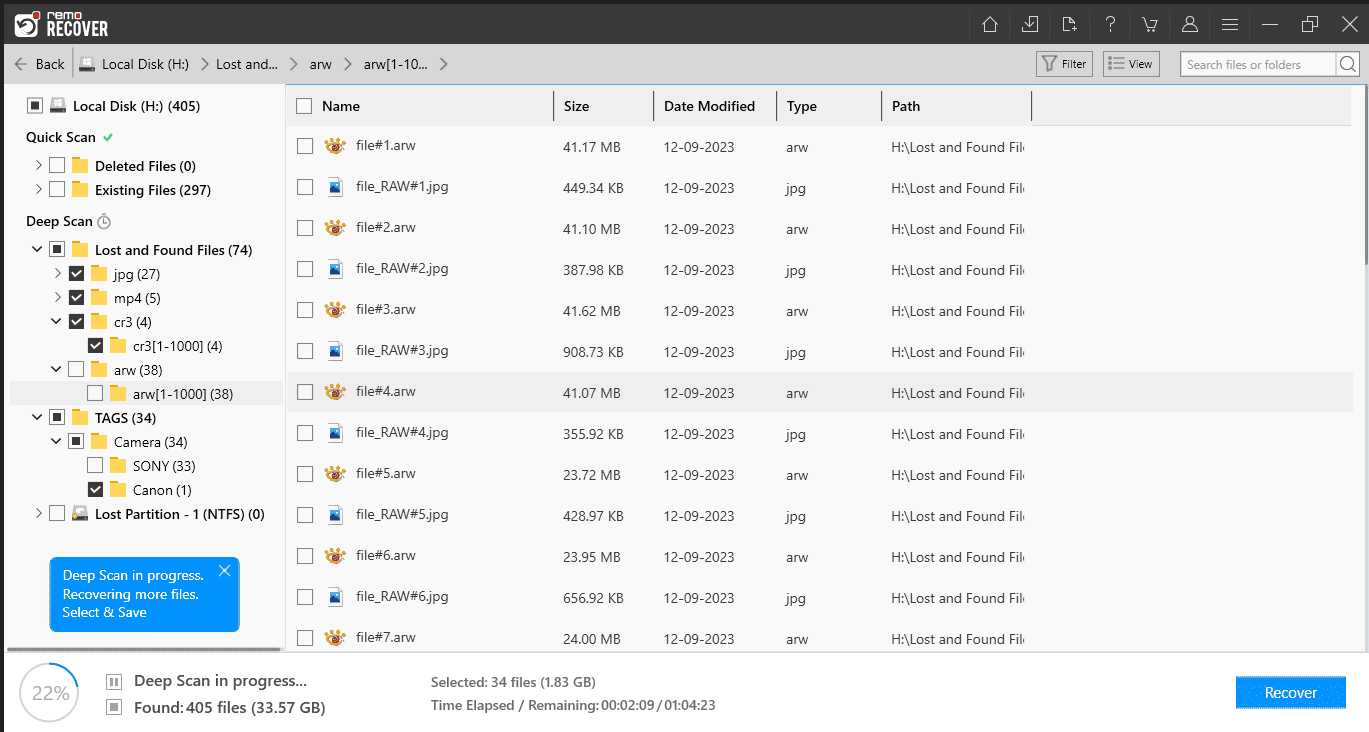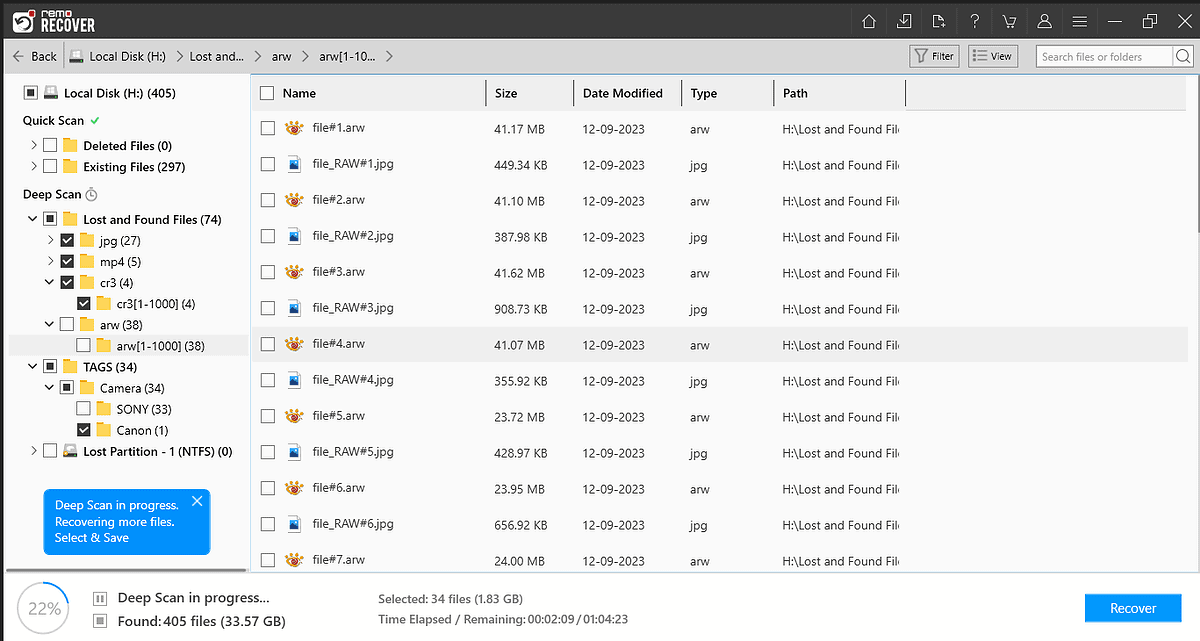 Step 9: Click the Recover button; the tool will ask the user to provide a location where they would like to save the recovered files from the Canon Camera.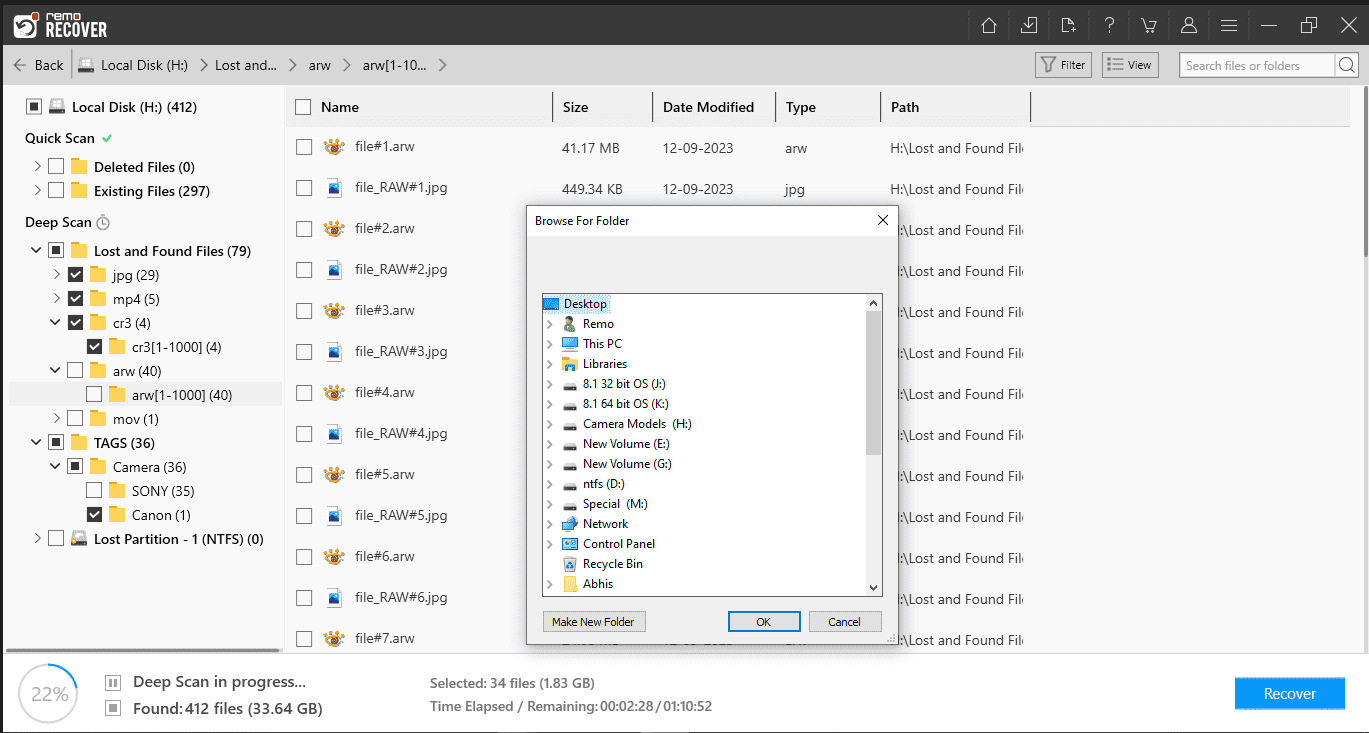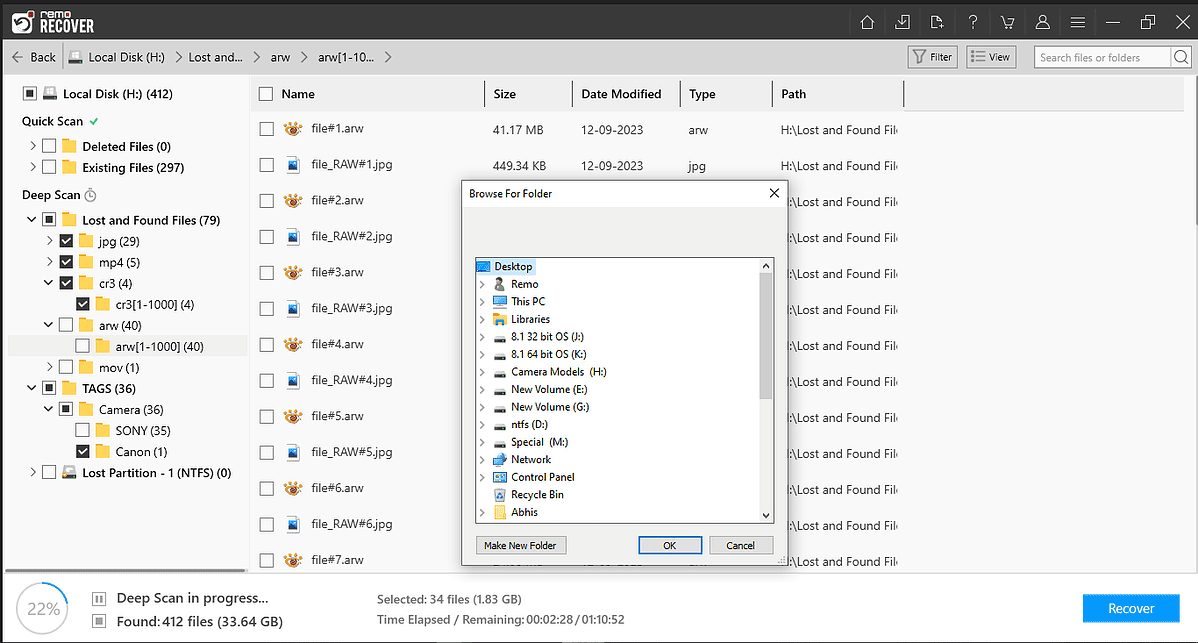 The tool starts the data restoration process, where the selected files recovered from the connected Canon SD Card or the Canon memory card will be saved in the location that the user has chosen.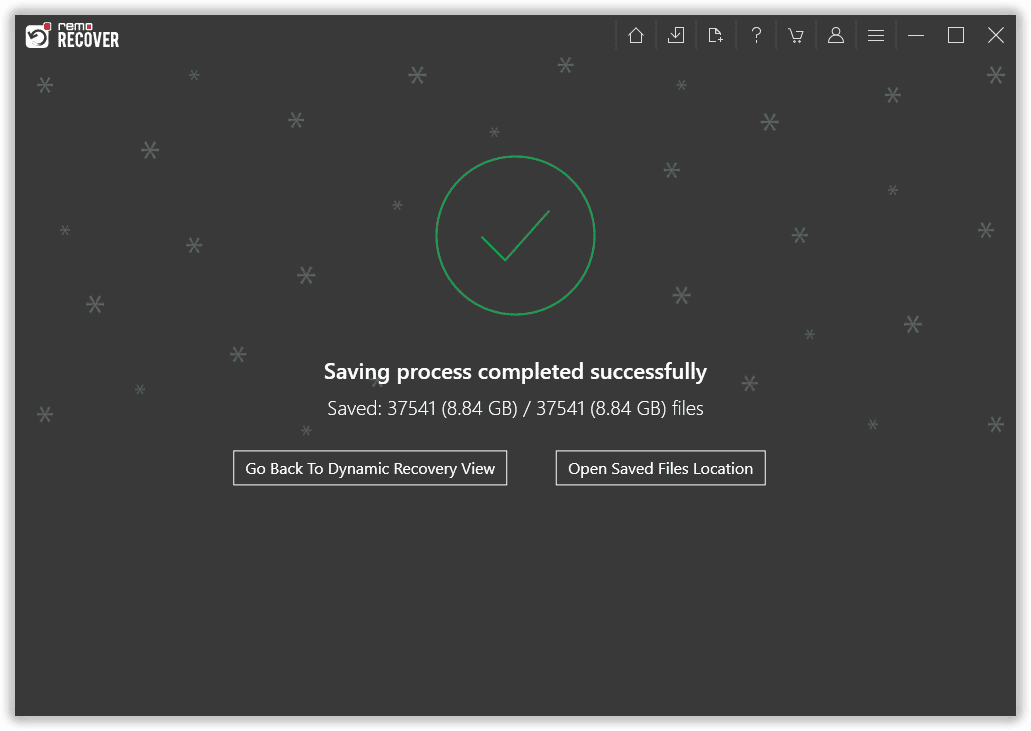 Although Remo Recover is not free, its expertise and advanced algorithms make it a worthwhile investment for those serious about recovering their lost data.
Preventing Data Loss in the Future
Take regular backups of photos, videos, and other essential data and save them on other external storage devices when storing the backup files offline or Cloud storage when you prefer to keep them online.
Regularly run antivirus scans to find and remove any viruses or malware in SD or camera memory cards.
Handle your Canon camera and the storage devices where you have saved your Canon photos with extreme care.
Be extremely careful when you want to format the SD card.
Always use reliable storage devices and Card readers.
Enabling Write protection is a great way to protect files from getting accidentally deleted and prevents files from getting modified after a virus attack.
Conclusion
In conclusion, this article has addressed various questions about recovering deleted photos from a Canon camera. We have discussed solutions like backups and freeware tools like PhotoRec and tested data recovery software like Remo Recover to see if it can recover lost or deleted photos and videos from Canon cameras.
Additionally, we have discussed why and how Canon users lose their files and provided various tips to ensure you never lose your files.
We hope this information has been helpful and that you can recover your lost photos and videos.