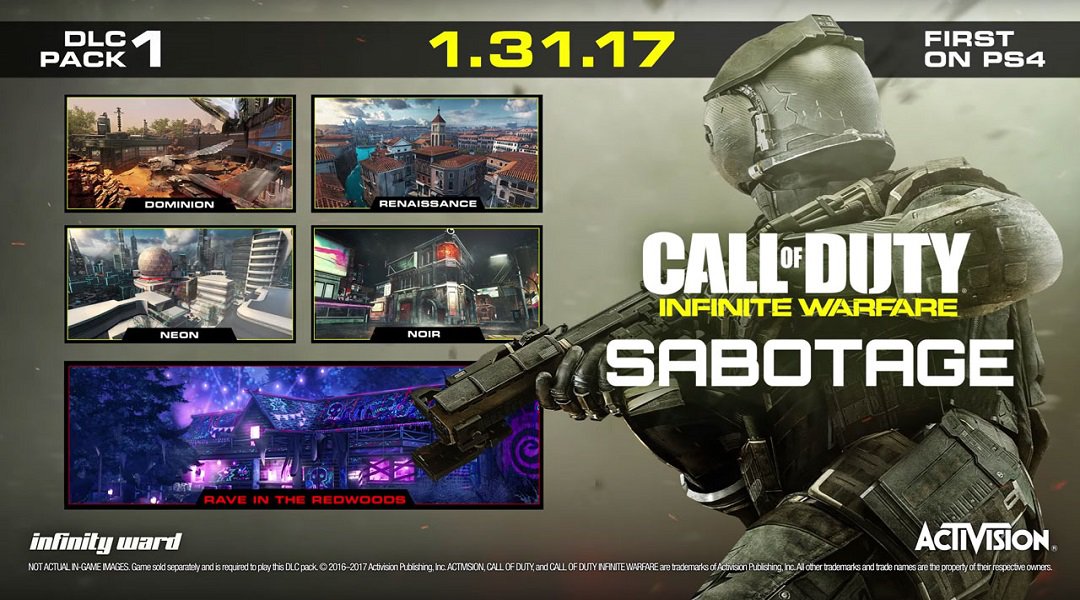 Activision has finally announced the first DLC Map Pack for Call of Duty: Infinite Warfare, titled Sabotage. The expansion includes new multiplayer maps, including Noir, Renaissance, Neon, and Dominion, and also a new zombies co-op experience called Rave in the Redwoods, set in a '90s abandoned lakeside summer camp.
The Rave in the Redwoods is set in an abandoned lakeside summer camp, with a spooky horror vibe. The four heroes from the Zombies in Spaceland co-op mode reappear in the 1990s setting, and then the place comes alive with disco lights and other zany rave features in a techno-fueled illusion. Willard Wyler, the enigmatic movie director villain, returns and has trapped the protagonists inside another one of his twisted horror films. The four playable characters from the original story also return, but with fresh, over-the-top roles, as they learn more about Wyler's evil plot while fighting all-new varieties of the undead.
"We're excited to introduce a new chapter to our zombies experience, taking players into a spooky 1990s summer camp straight out of the horror films of the decade," said Dave Stohl, Studio Head of Infinity Ward.
"We're also delivering four new, diverse multiplayer maps, including a remake of the Modern Warfare 2 classic, Afghan. There's a tremendous variety of new content that we think every player will enjoy."
In other news, 'Call Of Duty: Infinite Warfare' is at the top of UK's video gaming Christmas charts.
Sabotage comes out for Xbox One and PC in February 2017, with PS4 users getting the chance to grab the update a month earlier.