Arm today announced a new suite of IP for premium mobile experiences that will enable companies like Qualcomm to design new high-end processors that can offer laptop-grade performance. Arm announced the following today:
Arm Cortex-A76 CPU: New microarchitecture enabling 35 percent more performance year-over-year for increased productivity
Arm Mali-G76 GPU: Untethered gaming and on-device machine learning (ML) with 30 percent higher efficiency and performance over previous generations
Arm Mali-V76 VPU: Enabling UHD 8K viewing experiences across more devices
The new Cortex-A76 CPU features a brand new microarchitecture based on DynamIQ big.LITTLE combination that is designed for extreme performance and power efficiency. Compared to the current generation Cortex CPUs, Cortex-A76 CPU will offer performance uplift of 35%, and in the meantime they offer 40% power efficiency improvement. ARM even claims that the Cortex-A76 based laptops are expected to deliver twice the performance on the current Arm based generation.
Some of the key enhancements in the Cortex-A76 CPU include:
Decoupled branch prediction and instruction fetch: Built to hide latency at high bandwidth, the in-order Cortex-A76 front-end is able to fetch 4 to 8 instructions per cycle, using multi-level branch target caches and hybrid indirect predictor to sustain the maximum throughput.
A wider machine: Cortex-A76 is Arm's first 4-wide decode core, increasing the maximum instruction per cycle capability. Up to 8 operations per cycle can then be dispatched to the out-of-order core, supporting a wider area-/power-optimized instruction window.
More integer and vector execution throughput: Quad-issue integer units are integrated in the core including 3x simple ALU and 1x multi-cycle integer. Moreover, Cortex-A76 supports dual-issue native 16B (128-bit) vector and floating-point units, twice the throughput of any previous Arm CPU. Vitally, it can deliver the 4x ML performance improvements we mentioned earlier.
Enhanced memory system: The full cache hierarchy is co-optimized for latency and bandwidth, with a sophisticated 4th generation prefetcher, deep memory-level parallelism.
Gallery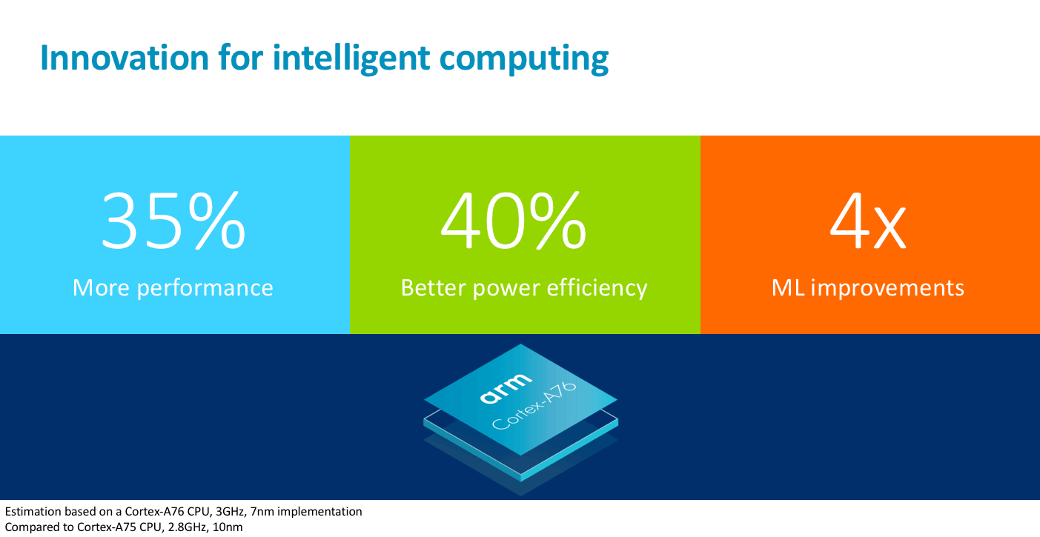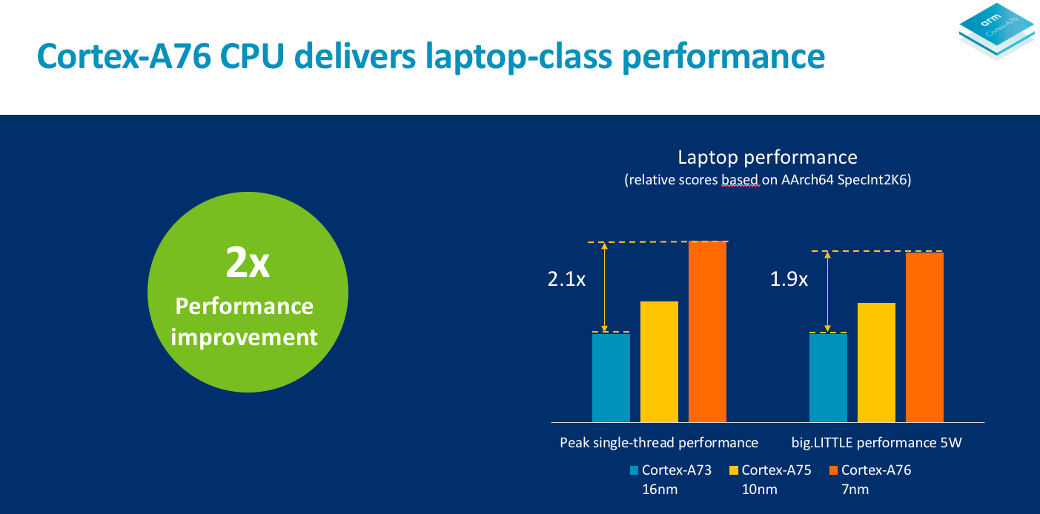 "Cortex-A76 represents the best fit for the laptop space because the performance uplifts allow exceptional delivery of the most important productivity apps such as the Microsoft Office suite, providing a much faster, smoother user experience," wrote Lionel Belnet from ARM in his blog post.
With today's announcement, ARM has made any gap in Windows on ARM device performance a non-issue with a new CPU design that delivers a staggering increase in year-over-year performance. I guess the Snapdragon 1000 processor which we wrote about last night will be based on this new Cortex CPU. Are you excited about the upcoming ARM-based Windows devices?