Frustrated with the trappings of Instagram Beta on Windows Phone?  Do you enviously look on as friends share photos AND video without batting an eye? Well my friend, those days are over.  And actually, have been over for a while thanks to 6tag. Here's our video review:
For those of you that don't remember, there were days when the Windows Phone community was clamoring to get their hands on Instagram's 1:1 ratio, over-filtered, food posting and celebrity following goodness.  A time where Nokia themselves launched an app called, ToInstaWithLove, which was exactly what it sounds like, a campaign appealing to Instagram to launch on our beloved Windows Phone.  Rudy Huyn and 6tag beat Instagram to the punch and continues to do that to this day. Time and again we see Instagram adding new features to its offerings and Instagram Beta continues to be left behind.  Meanwhile, Rudy Huyn, a dedicated Windows Phone developer has kept WP users current with 6tag, and that really is the crucial point, part of what makes 6tag such a fantastic app to have in our marketplace.
First off….what is it?  6tag is an unofficial Instagram client published by Rudy Huyn, and a ridiculously good one at that. Functionally, 6tag is free of noticeable bugs or lag.  Start-up times are fast and responsiveness of the app are top notch, even when handling larger tasks like importing video.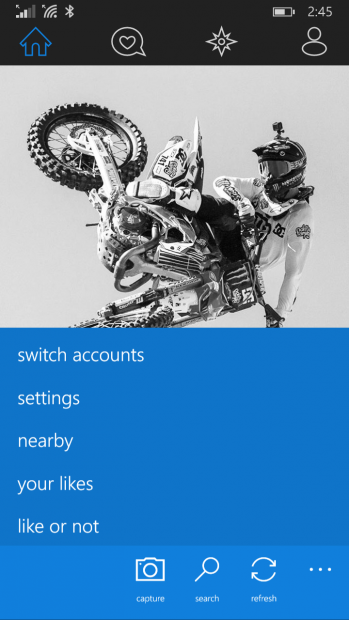 Opening the app lands you on your feed.  A swipe to the left or right takes you to notifications, trending and suggestions and your personal profile.  Posting photos with 6tag is as simple as you could want it to be, you know the drill. Select the camera image at the bottom and your default option is to capture a new picture within the app.  To the left is the option to switch to video, while the right holds options to upload an already existing photo or video and collage creation. Select a filter if desired, adjust the filter strength, throw in some hashtags and you're posting.
However, these are things that nearly all Instagram apps are capable of.  6tag sets itself apart, at least on Windows Phone, by staying current and offering a superb User Interface to boot.  I believe it was roughly a day after Instagram announced that they would begin supporting more than just square photos and video that we had that long desired feature on 6tag.
One of my favorite and often used features is the ability to sign in with multiple profiles. While this isn't relevant to everyone, it's a testament to how much thought Huyn has given to 6tag.  I personally manage or help manage 3 Instagram accounts and switching between all of them is quick and easy, just touching the 3 dots at the bottom of the page and tapping switch accounts.  Getting even deeper 6tag give you the option to edit and choose which page on Facebook you want to post to, be it your own timeline or a page you manage as an administrator.  Other nice features include toggling double-tap to like, auto-playing videos, hiding sponsored posts and the choice between light and dark themes and two different interfaces.
Now this could be the video editor in me, but the only thing that 6tag may be lacking is in the built in video editor.  I would like to see the option to add music and splice together multiple video clips, giving a robust video experience without having to rely on other apps.  We also wouldn't mind seeing some support for landscape mode, especially when it comes to editing and posting videos.
Overall 6tag has all of your Instagram bases covered.  It's a great daily driver for all of your Instagram needs and with trial and a reasonable $1 price option to hide ads,  It's well worth more than just a look in the Windows Phone Store.
Developer: Rudy Huyn
Price: Free+