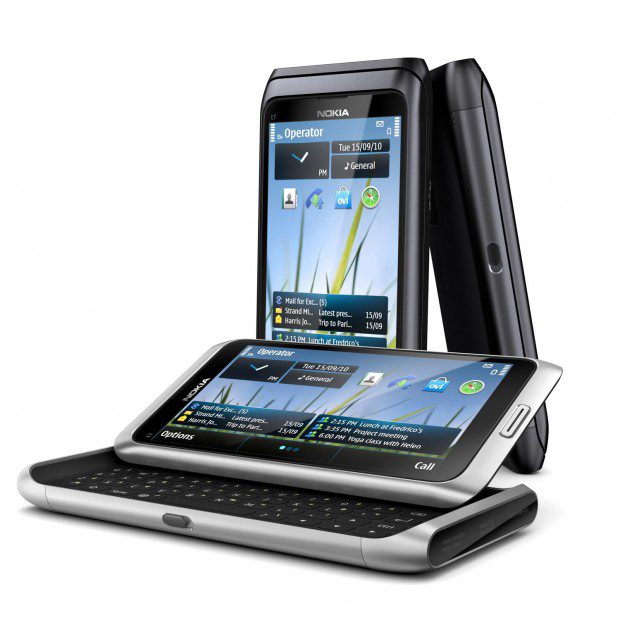 Windows 10 for phones is a mobile business OS like no other. A (big) phone could replace a tablet and even be used as some sort of PC. The new Microsoft Office on the phone works flawlessly in both ways. I think we do not need to dig deeper to recognize that Windows 10 mobile will be a mobile business OS like no other.
When Nokia launched the 1520 I was told they internally called it the successor of the communicator. For all of you who do not know: The communicator series was Nokia's business phone line with phones that had a full QWERTY-keyboard. The Nokia E7 – launched with Symbian 3 at that time – was the last of its kind. Blackberry still has phones with a physical keyboard in its portfolio, but it's Blackberry, we know how well these phones sell…
The problem, however, probably is not that these phones have a physical keyboard, but the phones themselves. Blackberry's full touch device did not sell that well either.
While I have to admit that typing on a 6" touchscreen works great, it is still no comparison to a physical keyboard. That's why I call for a Nokia E7 successor – a real! The Nokia E7 had a full QWERTY-keyboard, an HDMI port, FM-Transmitter and came preinstalled with an office suit which is comparable to Office Mobile on Windows Phone 8.1, and that combination made sense. While an FM-Transmitter is a cool feature, today there are so much more alternatives to it so probably it will be much more of a gimmick than a real useful feature (although this depends on the user, of course!). The other features, however, make so much more sense on Windows 10!
Imagine connecting a keyboard and a mouse to your phone and pairing it with your Xbox One via Miracast – a PC like experience with Office and other features in your living room. Whilst this does not even need a communicator phone to work, imagine doing the same only without external devices: Connect the phone to any given TV using the HDMI port and use the touchscreen as a trackpad and the keyboard for typing. No one could transform a phone into a PC easier and more useful than that!
Also on the go, in the Taxi, bus, train or in a limousine: Quickly editing the last bits of an Office document without needing to carry a 12" tablet or tablet, and I am not talking about small changes, but real editing. Sure, all this will always be most comfortable on a tablet or a PC, but a phone only can be a great alternative to that, especially if you do not want to carry bags around.
I summon a Microsoft product manager! A phone with a 5 to 6" FullHD (no more, no one would ever see a difference except that it consumes more energy) screen, an HDMI-output, full QWERTY-keyboard, the newest processor and a great battery – like a Lumia 1520 with a few additions – yeah, that would be an instant buy!
Oh, let's not forget the pen input…