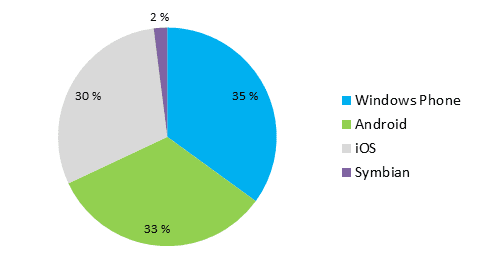 Smartphone platform share 1-5/2013
Market research company Marketvision has released some data about the Finnish smartphone market.
The found the new smartphone market in Finland is divided almost equally between the three leading smartphone platform – Android, iOS and Windows Phone.
Windows Phone has however now managed to pass its two main rival, and currently has 35% of new sales, ahead of Android a 33% and iOS at 30%.
In business Windows Phone has an even bigger lead, with 50% of sales into enterprise being Windows Phones. The new, low-priced handsets  is expected to further strengthen Windows Phone's  progress in Finnish organizations.
"Finnish smartphone platforms in the market differs from other markets. most other countries, the Android platform dominates the smartphone market, while in Finland the Windows Phone is taking a strong foothold due to  the Nokia Lumia family," Market Vision leading analyst Toni Nygrén said.
The Finnish market is quite small, but is still worth around 4 billion Euros.  Hopefully a reasonable share of this will help boost Nokia's coffers while it works to gain similar market share elsewhere.
The study can be seen here.
Via Talouselama.fi, thanks henaaa for the tip.