Is Copilot the best AI companion out there? Help us find out by answering a couple of quick questions!
The Windows 10 October 2020 Update – also known as Windows 10, version 20H2 – is now available for download from Microsoft. This new update comes with some new features including the streamlined design for the Start menu, improved Alt + Tab experience and more. This update also comes with several new improvements for IT admins.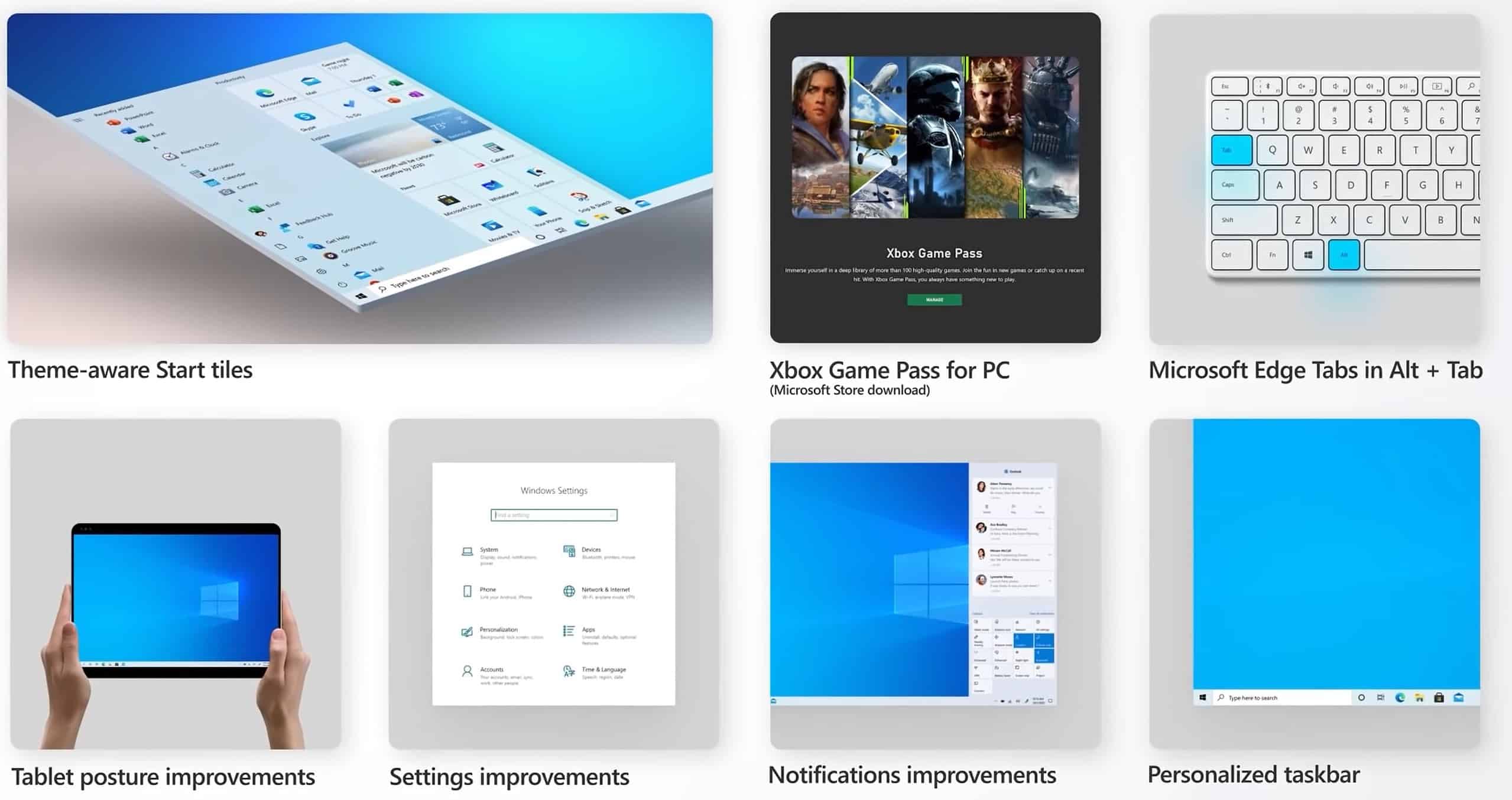 You can find the full list of new features in Windows 10 October 2020 Update below.
For the end user
Theme-aware tiles in Start – The redesigned Start menu has a more streamlined design that removes the solid color backplates behind the logos in the apps list, and applies a uniform, partially transparent background to the tiles. This design creates a beautiful stage for your icons, especially the Fluent Design icons for Office and Microsoft Edge, as well as the redesigned icons for built-in apps like Calculator, Mail, and Calendar.
ALT+TAB between tabs in Microsoft Edge – We introduced ALT+TAB (task switcher) allowing you to toggle between open windows way back in Windows 2.0! In Windows 10, version 20H2, you can now use ALT+TAB to rotate between not only your open apps but also the tabs in Microsoft Edge. Now rotating through ALT+TAB will allow you to open Microsoft Edge in the specific tab you're needing, not just the latest active tab. You can modify the ALT+TAB experience in Settings > System > Multitask.
Improved notifications – Toast notifications now have the app's logo in the top left corner of the notification, so you can immediately see where the notification is coming from. We've also turned off the Focus Assist notifications, which tells you when Focus Assist is enabled – whether via automatic rule or manually enabling it.
Settings – We continue to improve the Settings page, adding more and more classic Control Panel capabilities. In addition to added settings, we also added a [COPY] button to Settings > System > About so you can easily copy that information and paste it into a help desk ticket. Watch for even more improvements to come!
Tablet experience – Previously, when you detach a keyboard on a 2-in-1 device, a toast notification would appear asking if you wanted to switch into Tablet Mode. If you tapped Yes, you would switch into Tablet Mode. But selecting No would bring you the Windows desktop. In Windows 10, version 20H2, the default is changed: the toast notification no longer appears and you are instead brought into the new tablet experience. You can change this behavior in Settings > System > Tablet.
Refresh rate of display – Change the refresh rate of your display, giving you a smoother motion. This change can be made at Settings > System > Display > Advanced display settings. Note that this may require supported hardware.
Microsoft Edge (built on Chromium) – And of course, Windows 10, version 20H2 is the first version of Windows to come with Microsoft Edge browser built on the Chromium engine.
For the IT professional
Here's how you can download the update:
Open your Windows Update settings (Settings > Update & Security > Windows Update) and select Check for updates.
If the update appears, and you are running Windows 10, version 1903 or later, you can simply select Download and install to get started.
Once the download is complete and the update is ready to install, we'll notify you so that you can pick the right time to finish the installation and reboot your device, ensuring that the update does not disrupt your activities.
Source: Microsoft