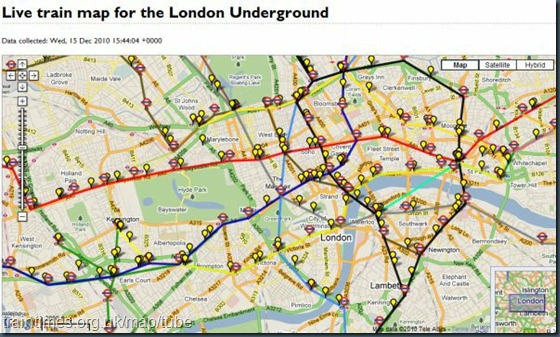 Public transportation is vital for anyone who lives in a big city. In the past, finding information about bus or train schedules, delays and such was a chore because most of that data was not easily accessible. The advent of smartphones has led to ease of obtaining this information in usable form via apps, but it is still encumbered by the local governments' ability to provide a framework to obtain such data. With the trend of moving software to the cloud, Microsoft has scored a major scoop with its Azure platform in a partnership with Transport for London who moved their Trackernet data feed to the service.
From the MSDN blog
The Developers Area contains TfL's data feeds and allows developers to create applications for mobile and other devices for use by the public. Feeds available include information on the location of cycle hire docking stations, timetable data and real time traffic and roadworks information along the entire TfL transport network in and around London.
And more from the Guardian newspaper
Other services that will now be available through the API include:
• Live traffic disruptions;
• Realtime road message signs;
• Barclays Cycle Hire docking station locations;
• Timetable of planned weekend Tube works;
• Station locations (for Tube, DLR and London Overground);
• River Thames pier locations;
• Findaride (licensed private hire operators);
• Oyster Ticket Stop locations
This should be a boon to all developers writing real-time schedule and traffic applications and I can't wait to see some cool WP7 apps taking advantage of the features. As an example, Matthew Somerville, using the live data feed has come up with a map showing the trains moving in near real time!
I hope that more local government transportation authorities will follow the lead and provide APIs to developers in an easily accessible manner like what TFL has done. On a somewhat related note, the nicely done Bus Watch Chicago app has just received an update which should be on the marketplace soon.
It is now up to you UK developers, to come up with some great looking and functional apps using the Trackernet data feed.
Via Techmeme