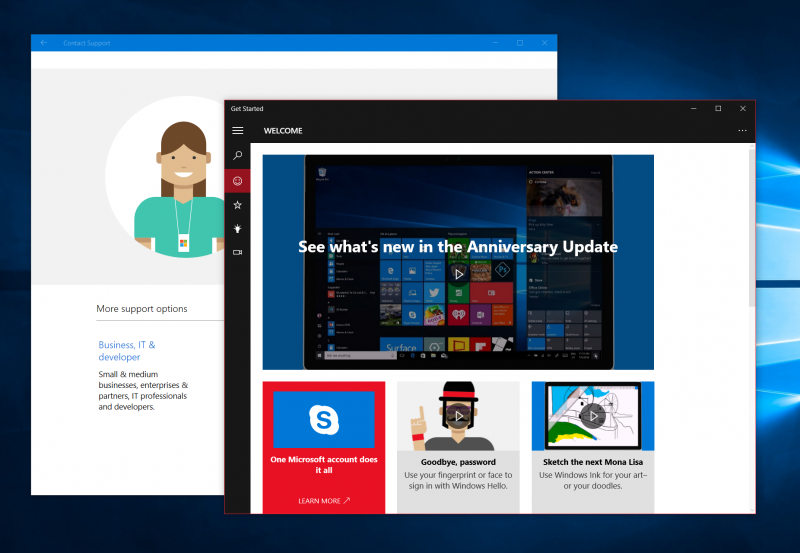 Microsoft's Windows 10 operating system is a big change for many, and users are still getting the hang of it. Not only does it introduce a lot of new features and an overhauled design, it also comes with a few issues for users on both desktop and mobile devices. Now, while some of these issues may be inherent bugs on the operating system, others are issues which originate from user error or simple ignorance as to how Windows works.
In my experience monitoring the MSPU Social media page on Facebook, as well as other communication channels, some Windows users don't really know how to use Windows 10, nor do they know who to turn to in the event of a mishap.
Thankfully, Microsoft is aware of this as well and has installed two apps on the Windows 10 systems – both mobile and PC – to ease this transition. Now both of these apps have been available since Windows 10 first shipped in 2015, but it's currently uncertain how many consumers actively use these apps for support as opposed to attempting to reach out to other, less effective channels.
The first of these apps is the "Get Started" app for Windows 10. This app does exactly what it says on the tin and helps users to get Started with their new Windows 10 systems and explain how to make use of the various new apps(like Skype preview) and features (like snapping).
Whether you're looking for where a particular feature is, or how to change a setting or what have you, the Get Started app should be your very first port of call.
Secondly, if you're in dire straits and need support on your Windows 10 PC or phone for some heinous bug or critical issue, Microsoft also has you covered. In every installation of Windows 10, Microsoft has pre-installed a "Contact Support" app which gets you a direct line to their support network from your PC or phone. You don't need to go to any websites, or search for support forums. Just open the Start Menu's app list, scroll to the Contact Support app, and click or tap as desired.
While the purpose of these two apps should be obvious to users, it appears that many Windows users do not indeed take as much advantage of these two apps. Microsoft's Windows 10 operating system may have been accused of being user hostile and opaque  with regards to privacy, but the firm is pretty invested in taking on user feedback and reaching out to consumers. These two apps represent a set of tools that Microsoft is using to reach ou to consumers, and they should be embraced – not discarded.