In a press release Three UK announced that they will be getting the newly announced Nokia Lumia 925, and that the device will support LTE when Three rolls it out eventually.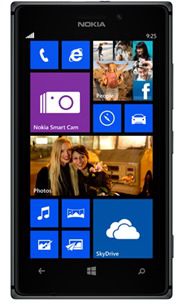 Sylvia Chind, Head of Devices at Three said, "We're delighted to be ranging the Nokia Lumia 925 on Three. Not only is Nokia's latest smartphone stylish and slim it also includes some of the best camera technology we've ever seen. Taking, editing and sharing stunning nightlife scenes or holiday snaps on the Lumia 925 is now even more enjoyable and is the perfect partner to our Ultrafast network".
They note the key features of the handset is:
Take sharp and clear photos, even when it's dark
Edit your pictures as soon as you've taken them so you get the perfect picture
Discover information about nearby restaurants and shops through your camera viewfinder
Say goodbye to cables with wireless charging
Personalise your start screen with the people that matter most
Ultrabrilliant meets UItrafast
No pricing was announced.
Vodafone in UK will also be getting the handset, in an exclusive 32 GB version, while O2 UK will get getting an exclusive on the white version of the handset.
See Three's impressions of the unveiling of the handset in video after the break.