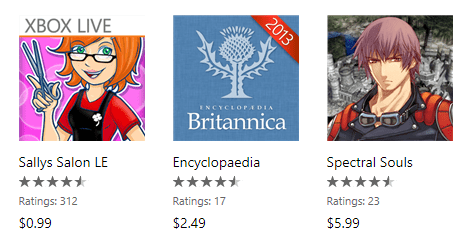 This week's Red Stripe Deals, which are apps and games which are discounted at least 50% for a limited period, are a somewhat more premium collection.
As usual the collection consists of 2 games and one utility.
The first game is Sally's Salon LE.
Sally's Salon is a made-over version of this popular time management game. The game includes 5 additional locations with exciting challenges, more customer types, extra trophies, upgraded graphics, enhanced visual effects and more.
Sally's Salon is Xbox Live enabled and costs only $0.99 and can be found in the Windows Phone Store here.
Next we have Spectral Souls, a high end full size Japanese Tactical RPG .
The game features:
A full scale Japanese Tactical RPG for Windows Phone 8.
52 outstanding soundtracks.
84 characters, different skills, abilities and tons of 3D backgrounds.
High resolution graphic assets.
100's of hours of gameplay packed in 1GB data.
Cut-Scene videos.
The game is simply "a must have" for all fans of "Spectral Souls universe" and for all fans of Tactical RPGs in general.  It costs a deserved $5.99 and can be found in the Windows Phone Store here.
Lastly we have the definitive encyclopaedia, the Encyclopaedia Britannica.
The 2013 edition of the tome gives mobile users the ability to find information and explore subjects from a trusted source without compromise. Users can feel confident that their answers are accurate and vetted by professional editors and expert contributors.
The app features:
80,000 articles in a fully searchable database
Tens of thousands of images, diagrams, and charts
Ability to download articles for offline viewing, store your favorites and access your search history
Research noteworthy events and birthdates from "This Day" in history
An A-Z browse allows users to browse the entire contents of the Encyclopaedia Britannica
$2.49 buys you full access to the content of the app for 1 year from the first launch of the app. An internet connection is required to view all content and images. Find the app in the Windows Phone Store here.