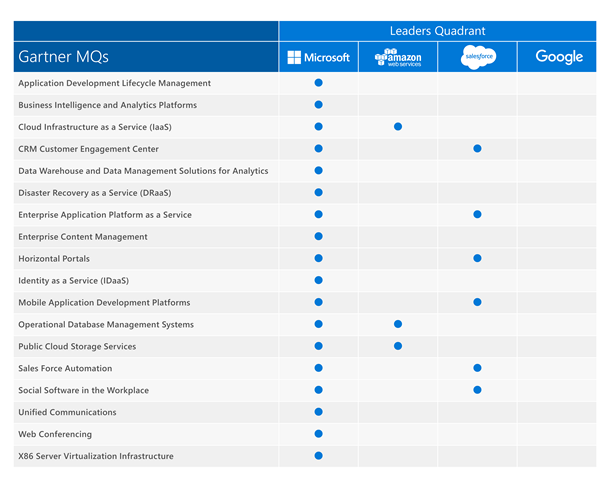 Everyone knows that Amazon is the current leader in the cloud infrastructure market by a huge margin. But it is not just about cloud infrastructure (IaaS), enterprises need SaaS, PaaS, and several others for a complete solution. Microsoft today highlighted that they are the only vendor recognized as a leader across Gartner's Magic Quadrants for IaaS, PaaS and SaaS solutions for enterprise cloud workloads. Microsoft is in a unique position with their extensive portfolio of cloud offerings designed for the needs of enterprises, including Software as a Service (SaaS) offerings like Office 365, CRM Online and Power BI and Azure Infrastructure as a Service (IaaS) and Platform as a Service (PaaS).
And Microsoft's cloud vision is a unified story that we're executing on with the same datacenter regions, compliance commitments, operational model, billing, support and more. The ability to deploy and use applications close to data with consistent identity and a shared ecosystem, means greater efficiency, less complexity, and cost savings.
Take a look at the table on the top, Microsoft is a Leader in almost 18 different cloud solution categories while Amazon is a leader in only three of them and Google in none.
Many of our customers embrace Identity as a first step in moving to the cloud. Office 365 and Azure share the same identity system with Azure Active Directory therefore providing a simple, friction free experience for our customers. And with Office 365 commercial customers surpassing 70 million monthly active users, Azure adoption is quickly following suit. Once in Azure, customers tend to start with IaaS and then quickly extend to using both IaaS and PaaS models to optimize productivity and embrace new opportunities for business differentiation. Today fifty-five percent of Azure IaaS customers are also deploying PaaS.
Microsoft today said that Gartner has placed Microsoft Azure as a leader in its Magic Quadrant for Cloud Infrastructure as a Service for the third year. Read about it here.