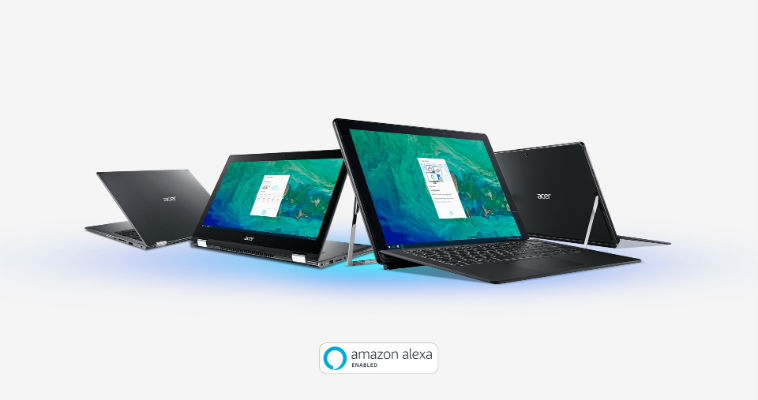 Earlier today, we reported that Amazon is bringing its Alexa to PCs through partnerships with various Windows OEMs including Lenovo, HP, Acer and Asus. Now, Acer has detailed its plans to bring Alexa to their PCs. Alexa will be coming to select Aspire, Spin, Switch and Swift notebooks, as well as Aspire all-in-one PCs starting from Q1 2018. And initially it will be available in the US via an update through Acer Care Center and wider support is expected to be rolled out mid-2018.
These are the PCs that will receive this update this quarter in the US.
Aspire 5, Aspire 7, Spin 3, Spin 5, Switch 7 Black Edition, Swift 3, Swift 5, Swift 7, Aspire Z24, Aspire U27, Aspire S24.
Acer's new Windows devices such as the Switch 7 Black Edition and Spin 5 come with Acer Purified.Voice technology that has four digital microphones supporting far-field voice recognition from up to nine feet (2.74 m) away, while other devices with dual microphones will be able to activate Alexa within three feet (0.91 m). Acer also mentioned that all the supported devices come with front-facing speakers and provide an immersive audio experience.
Acer is making use of Intel Smart Sound Technology, an integrated audio DSP (Digital Signal Processor) built to handle audio, voice, and speech interactions to enable Alexa respond to voice commands quickly while offering high fidelity audio without impacting PC's performance.