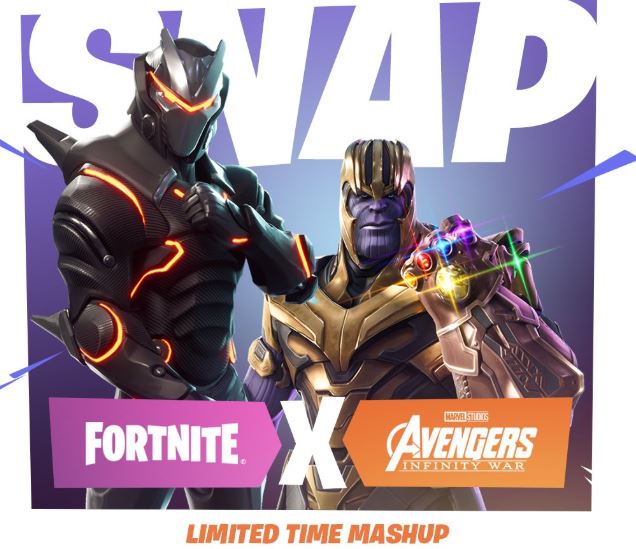 Did you think Avengers: Infinity War was the most ambitious crossover event in history? Think again. Epic and Marvel have teamed up to bring Thanos to Fortnite Battle Royale in a limited time mashup starting tomorrow.
Entertainment Weekly was given exclusive details about the event. The "Infinity Gauntlet Limited Time Mashup" mode will see the usual 100 players dropped onto the map in a battle to be the last man standing. What makes this mode special is that the Infinity Gauntlet—with all six stones—will be in play. The player that finds and equips the Gauntlet will turn into Thanos in-game.
If you're wondering how this whole mashup came to fruition, it's because Infinity War co-directors Anthony and Joe Russo are Fortnite fans.
"Over the past few months, while we were editing Infinity War, we'd take breaks to hop on and get in a few games," Joe Russo told Entertainment Weekly. "And then we started thinking, how cool would it be to have some kind of Avengers–Fortnite mashup? So we stalked Donald."
The Donald he is referring to is Donald Mustard, the worldwide creative director of Epic Games.
"Out of the blue, I get this call from Joe. And after a bit of geeking out over each other's work, we start brainstorming these crazy ideas," Mustard said. "It was really important that whatever we did, it had to be super authentic to both Fortnite and the Avengers: Infinity War, and something that fans of both would be excited about. About an hour later, we had the bones of this awesome idea for a limited time gameplay mode, and almost immediately our team got started."
It was not revealed how long this limited time event will go on for. When it starts tomorrow it will be free for all Fortnite Battle Royale players.