After a year of waiting the Softcard (previously ISIS) app for Windows Phone is finally here.
AT&T has published the Windows Phone version of the app which allows Windows Phone users to pay using NFC contact-less payments.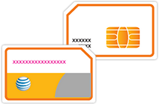 To use Windows Phone users need a phone with NFC, like the Nokia Lumia 920 but not the Nokia Lumia 520, a secure SIM card and the app.
Secure SIMs can be recognized by the grey mark in the bottom-right corner. If you do not have one you can get one free from AT&T.
To pay users need to open the app, enter their pin, select the payment card and then tap the terminal.
Users can add participating credit cards from American Express, Chase or Wells Fargo to Softcard, or set up an American Express Service account. This includes eligible Visa credit cards from the participating issuers.
Lucky AT&T users can find the app in the Windows Phone Store here.