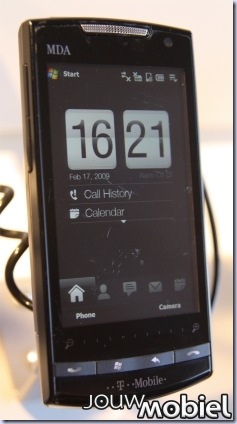 We cant speak to T-Mobile USA, which tends to be a sluggard when it comes to Windows Mobile devices, but T-Mobile Germany and elsewhere in Europe tends to be much more enthusiastic.
So it is again the case with JouwMobiel.nl carrying the news from MWC that T-Mobile Netherlands have been showing of their incarnation of the HTC Touch Diamond and Pro 2, to come soon to their network.
The Touch Diamond 2 is said to be coming in April, and the Touch Pro is will be dropping soon after in June.  That's not too long to wait for these highly anticipated devices to become available on a carrier contract and I anticipate a wave of upgrades coming to that network in the near future.
Read more at JouwMobiel.com here (babelfish translation)
Via GSMDome.com
Thanks Erwin for the tip.