Stable Diffusion is an advanced algorithm for generating art in the form of images from text. This algorithm employs a technique known as "diffusion" to accomplish this task.
The "diffusion" technique involves training an artificial neural network to reverse the process of introducing "noise" (random pixels) into an image.
Once the network is trained, it can transform an image of random pixels into one that aligns with your provided text prompt.
Even better, the creators of this model recently decided to publicly release stable diffusion, marking a significant milestone in the realm of AI-generated art.
In this article, we will explore the best stable diffusion AI art generators.
1. Playground AI – Best for innovative designs
This Stable diffusion AI Art Generator is an innovative online tool for generating AI-powered images, enabling you to unlock your creative capabilities.
The user-friendly platform also provides a seamless means to effortlessly captivating social media posts, producing stunning artwork, impressive presentations, engaging videos, polished logos, and captivating posters.
Playground AI's intuitive and straightforward interface ensures that extraordinary visuals can be crafted without the need for technical expertise.
Due to its robust AI-driven image editor and extensive library of pre-designed templates, backgrounds, and effects, you can personalize your creations according to your preferences.
You will also have an extensive assortment of artworks by emerging talents and established artists to fuel inspiration for your projects.
The accessibility of Playground AI, being freely available for all users, enables you to explore the immense potential of AI-infused image creation.
Let's check its best features:
User-friendliness
Captivating posters
Pre-designed templates
Easy to access
2. Fotor – The best user-friendly stable diffusion AI art generator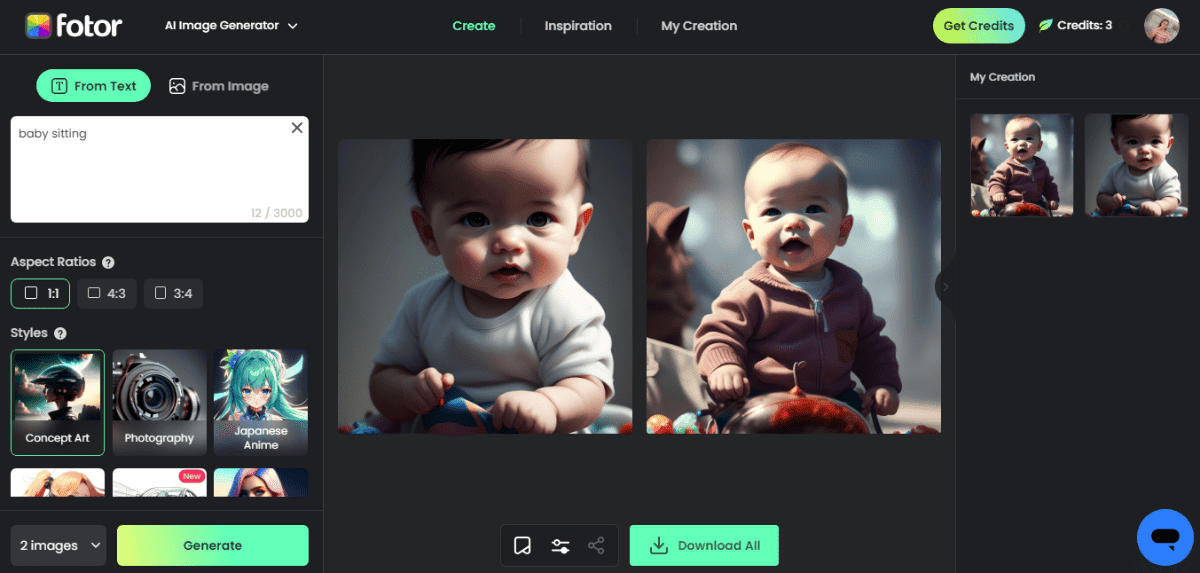 Fotor's AI image generator is a powerful and user-friendly tool that harnesses the capabilities of AI to produce visually captivating designs and artwork.
This AI-driven solution revolutionizes the design process, empowering you to generate creative images effortlessly.
The standout feature of Fotor's AI text-to-image generator lies in its exceptional suitability for beginners. No expertise in editing or design is necessary.
You only need to provide a detailed description of your desired artwork. And with the help of artificial intelligence, you can swiftly and efficiently create breathtaking pieces such as AI avatars, AI backgrounds, AI anime characters, and more. Fotor will bring your artistic vision to life within seconds.
Its essential features include:
Produces visually captivating designs
Allows easy generation of creative images
No expertise required
Quick accessibility
3. DreamStudio – Best for flexibility
DreamStudio allows you to craft images using the cutting-edge Stable Diffusion model for image generation.
With its thorough mastery of the connections between text and images, Stable Diffusion presents a swift and efficient approach to transforming text into stunning visuals.
It can produce top-notch images on any conceivable topic within seconds. All you need to do is input a text prompt, click the "Dream" button, and let it take care of the rest.
You can also explore and experiment with the provided complimentary credits.
DreamStudio represents a novel suite of generative tools designed to empower individuals with boundless creativity and effortless visual expression.
These tools facilitate accelerated creative endeavours by harnessing the collaboration of natural language processing and revolutionary input controls.
Upon first glance, the user interface stands out for its sleek and intuitive design. Furthermore, it allows you to easily adjust the number of images generated from a single prompt, providing even greater flexibility and possibilities.
Let's look into DreamStudio's main features:
Cutting-edge model
Sleek and intuitive design
It's swift and efficient
Easy user interface
4. NightCafe – Best for advanced diffusion technology
NightCafe Creator is an app that uses artificial intelligence to generate various types of art. It offers multiple methods to create AI-generated artwork.
With the help of neural style transfer, you can transform your photos into stunning masterpieces.
The text-to-image AI feature also helps you create artwork from scratch using only written descriptions.
You need to enter a text prompt, and the app will generate beautiful images for you. The advanced diffusion technology makes creating art incredibly easy and enjoyable.
You have full ownership of the art you create using NightCafe Creator, allowing you to do whatever you wish with your creations (as long as you have the necessary rights for any input images and comply with copyright laws in your area).
NightCafe is another Stable Diffusion AI Art Generator available for free and can be downloaded on Android and iOS phones.
With NightCafe, you'll explore various ways to generate AI art. Just click the "Create" button in the main menu and choose a creation method that interests you.
All the methods are user-friendly and designed to help unleash your creativity, enabling you to make incredible AI-generated illustrations.
NightCafe Creator also offers powerful tools not found in other AI art apps, such as the ability to use multiple prompts and multiple style images, download in bulk, use custom seeds, and create in bulk without limitations!
Check out NightCafe's key features:
Ability to use multiple prompts
User-friendly art generator
Multiple artwork solutions
Easy and enjoyable creation of art
Ability to create images in bulk
5. Mage Space – Best for additional customization features
The Mage Space generator provides a range of options for creating art, including text-to-image, image-to-image, and image-to-GIF.
One of the significant advantages of this art generator is the diverse selection of diffusion checkpoint models, which include top-notch Stable Diffusion models and LoRAs.
If you opt for the Advanced mode in the user interface, you can access additional customization features.
These include adjusting Sampling steps, text-prompt guidance, negative prompt, privacy settings, and seed.
When engaging in image-to-image generation, it is essential to follow specific steps. First, start with entering your text prompt and negative text prompt, then proceed to select all the necessary settings and models before choosing the image to be used for the generation process.
Knowing that image generation can pose challenges for beginners, Mage Space offers an "Easy Mode" setting that can be enabled through the user interface. This mode simplifies the process and provides a more user-friendly experience.
Mage Space's top features are worth checking:
Offers a diverse selection of diffusion checkpoint models
Excellent user interface
It provides an Easy Mode
Is Stable Diffusion AI Free?
Stable Diffusion is available as an open-source tool at no cost. However, monthly subscription plans are available for developers and businesses seeking additional features from the tool.
The subscription plans to cater to different requirements, starting with the basic plan, which costs $9 per month, followed by the standard plan at $49 per month, and the premium plan at $149 per month.
However, you can go for enterprise options if you have more extensive demands.
Can I Run Stable Diffusion on My Phone?
Yes! You can run stable diffusion on your phone, whether Android or iPhone. With the seamless one-click installation method, you can enjoy the Stable Diffusion benefits as much as you like.
Wrapping Up!
If you've been looking for the best Stable Diffusion AI Art Generators to download, this list has all the answers.
These AI art generators are rich in features ranging from user-friendliness to efficiency. Check this guide out and choose one that suits your needs.