1800Pocketpc's resident graphics designer has taken to Photoshop and created some pretty nice looking concepts of how he envisions Windows Phone 8 should look.
Yanko Andreev envisions large, high resolution 1280*800 screens where the start screen works both in portrait and landscape mode with Live, active and scrollable tiles with direct control on them which can be grouped and labelled and which also works with semantic zoom, much like Windows Phone 8.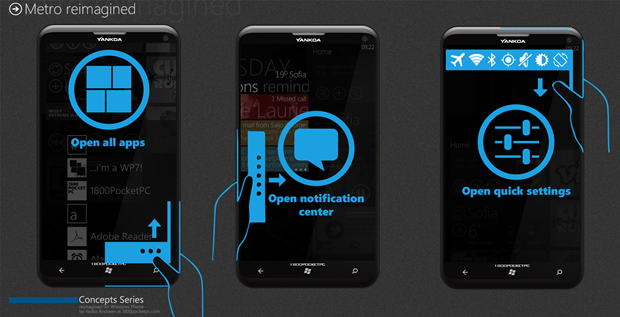 He also envisioned a variety of edge gestures from every part of the screen (depends from the landscape or portrait mode) – for example swiping from the right side of the screen reveals the last notification and swiping from the bottom open all applications. Swiping from the top open a small panel with several quick settings – for Airplane mode, Wi-Fi, Bluetooth, Location, Sound, Screen brightness and Screen rotation.
See and read more at 1800Pocketpc.com here.
What do our readers think of changing Windows Phone into what seems to be close to a mini Windows 8 tablet? Let us know below.