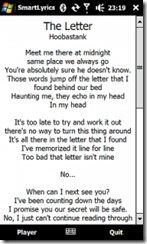 Smartlyrics is an interesting app which automatically looks up the lyrics of a song currently playing in either Windows Media Player or HTC AudioManager on your smartphone.
The software uses the www.LyricsPlugin.com services for the job and seems to work very well.
The app is still only in version 0.2, but appears extremely promising.
Download it from this xda-dev thread here.
Via 1800pocketpc.com