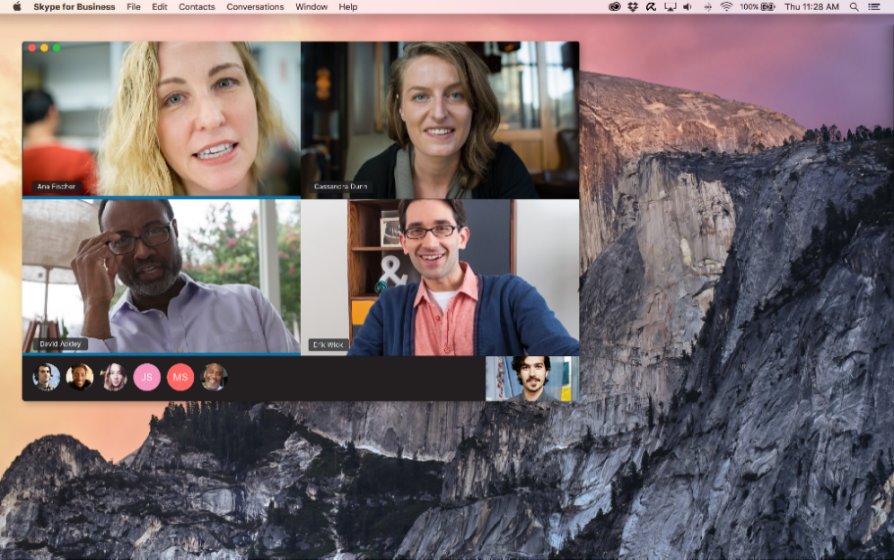 Microsoft has released the second update for Skype for Business on Mac today. Skype for Business on Mac is the all new client that provides great communication experiences for Apple users. Features like one-click join, edge-to-edge video, and full screen sharing give you a superior Skype Meetings experience.
The December update brings:
Sharing for audio calls.
The ability to share desktops in P2P communications has been asked for by many Mac users. As part of our first step to get this feature enabled, we have enabled sharing during an audio call. In the first image, the Mac client has shared their desktop during an audio call. The second image shows the same share from a Windows client perspective. We know there is more to do and it's on our roadmap to further enhance this experience.
VbSS Viewing for Office 365 Users.
In September 2015, we announced VbSS and added this improved form of sharing to the Windows client. Over the course of the last year we have enabled many of our clients.  And now, it's available for the Skype for Business on Mac client. This mode of sharing performs better, supports higher frame rates, and the setup time is faster than RDP (our original approach to sharing). In this release, we have specifically enabled viewing using VbSS. If others share using VbSS, the Mac client will also use VbSS to view. If the Mac user wants to share their desktop, they will use RDP to share. We also have VbSS sharing on our futures roadmap and will let you know when that is enabled.
Single Windows Mode for Lync 2013 Server users.
This has been a very popular ask by many of our customers. This allows the user to see their active IM conversations in a single window (with tabs). We have now added this feature for Lync 2013 Server customers. You will just need to enable the policy "EnableIMAutoArchiving" to enable for users on this release.
The update also brings several other improvements for the client. For a complete list of improvements to the client, read the release notes that come with this update.
Supported Operating System:
Mac OS X
Skype for Business Server 2015 or Lync Server 2013
OSX 10.11 (El Capitan) or OSX 10.12 (Sierra)
Outlook Mac build 15.27 (161010) required for Outlook integration
You can download it from Microsoft.