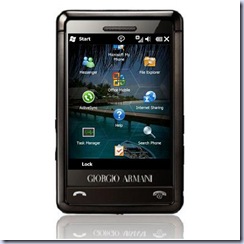 According to Samsung Taiwan's director of mobile marketing Ryu Jae-hyun, a Giorgio Armani phone powered by the Windows Mobile operating system will be released this year.
The move to develop smartphones like these is part of Samsung's move to focus more on the high-end of the market, which means that there will not be too many budget handsets released by the company during this year. In addition, Samsung also seems determined to rather come to the market with fewer, yet better devices during 2009.
Smile Kim, president of Samsung Electronics' Taiwan branch, has also stated that the company expects to be able to ship at least 200 million mobile phones during 2009, up from the 196.6 million units it sold last year. Through this achievement, the handset manufacturer hopes to remain one of the top-sellers in the mobile phone market, as it did last year, when it was placed second in the world after the giant market leader Nokia.
All in all, the company will maintain its focus on delivering improved user-interfaces, high-definition quality visual and sound, as well as touch screen technology on a range of feature phones.
Read more at Softpedia.com