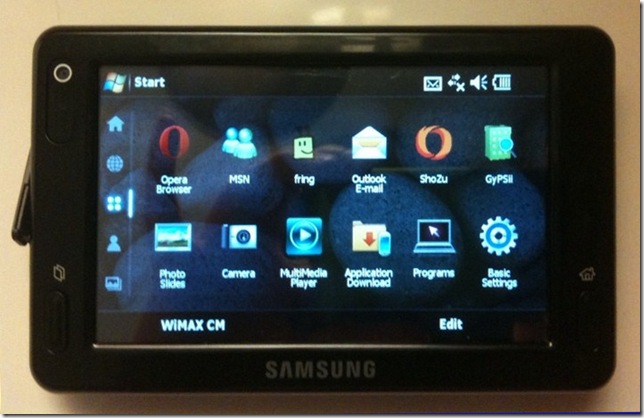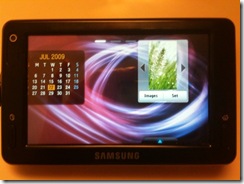 PCWorld has reported back on their hands-on in the field use of the recently released Samsung Mondi WIMAX MID.
Overall their impression seems relatively positive.  They found the device at 4.9 by 3 by 0.6 inches and 5.4 ounces relatively compact, especially for a device with a QWERTY keyboard. They also liked the 4.3-inch LCD touch screen, calling it gorgeous , extensive video (including DivX) and audio format support, preloaded GPS software, location-based services apps and the included car kit, car charger and 3.5 mm 4P headset.
They also liked the TouchWiz interface, especially the live widgets, but at times found the UI unresponsive, something they blamed on Windows Mobile 6.1, and lamented the lack of a WM 6.5 upgrade, which Samsung did not expect was forthcoming.
They noted the Opera browser worked very well, and due to the included Flash Lite 3.1 was able to load flash-heavy pages such as CNN, ESPN and PCWorld.com correctly. They note specifically that in this aspect performance was better than on the iPhone 3GS. They liked that this build of Opera Mobile 9.5 had a visual browsing history : When you go to the Internet screen (one of the options on the side navigation bar), you can see all of the recent pages you viewed in thumbnail view.
They do however complain about the keyboard, saying it was too flush with too little travel, and that the top row was cramped against the slide-up part of the unit.
Calling the device a a phone, personal multimedia player, GPS device, and Internet tablet, all packed into one svelte unit, they feel on the whole, the Mondi did not disappoint, and concluded:
Overall, in my first impressions, the good outweigh the bad: I can live with the keyboard and the UI is only sluggish occasionally. The future of WiMax is unclear right now, but if you live in an area where the technology has been deployed, the Mondi might let you take advantage of WiMax's promised, potentially appreciable performance boost over 3G. The ability to have faster-than-3G Internet speed on-the-go is incredibly useful. But be sure you know what coverage is like in your area. In my experience in Portland, I had a lot of difficulty using WiMax in various parts of the city. Often, I had to switch to Wi-Fi, which was problematic when I encountered secure or unreliable networks.
While a price has not been officially announced yet, PCWorld has been told  the device will cost over $300 subsidized and over $400 unsubsidized.
Read the full preview here.
Below is a video from CTIA of the device in action.