Korean publication The Bell reports from multiple industry sources that Samsung Display is working on new foldable designs as follow-ups to the Samsung Galaxy Fold.
Two different designs are being looked at – the so-called G and S-type devices.
G-style devices would like the capital letter G have folding two sides folding in, as with the Huawei Mate X and also shown in this Samsung patent above. Samsung has said they had previously developed this design, but did not bring it to market due to concerns about how vulnerable the screen is to damage. Presumably the positive reception of the Mate X has changed their mind.
Like the Huawei Mate X, Samsung's version would also have an 8-inch screen and would be a smartphone replacement.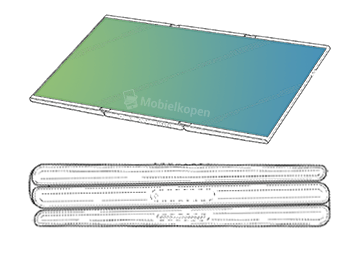 According to the report Samsung is also working on an S-style device which is shaped somewhat like the letter, and probable best visualized in the render from an earlier patent above.
Due to the extra panel that device would have a 13 inch screen size, and is expected to compete with the iPad Pro.
According to The Bell Samsung hopes to complete the design of these new screens in a year, but it is not clear when devices bearing them will hit the market.
Following the fiasco that was the Samsung Galaxy Fold launch, are our readers ready for these new devices? Let us know below.
Via Winfuture.de