A new series of patent applications featuring Microsoft's folding smartphone/tablet hybrid has been published by the USPTO today, focussing on the implementation of the camera in the device.
In the main, they deal with how to fit a large, thick camera into the thin body of the device, which due to its folding nature demands each half be as thin as possible, likely, from earlier patents, less than 6 mm thick.
Having a camera as small and thin as this would likely compromise the quality of images taken, and Microsoft's new patents detail a number of ways to work around this issue by fitting a bulky camera in a very thin frame.
"SPLIT-CAMERA AUTOALIGNMENT" would have  the camera divided over each half of the device, with some components (mainly lenses) on the other half of the device, and the patent deals with using micromechanics (similar to that used for optical image stabilization) to bring those components back into exact alignment when the camera is intended to be used.
Somewhat less sophisticated "FLOATING CAMERA MODULE" would have the camera module thicker than the thickness of the device, and have it movable inwards and outwards ("floating") in the body so that pushing it from the front would have it protrude from the back and pushing it from the back would have it protrude from the front of the device.  This would allow the handset to lie flat on a desk (unlike the recent iPhones for example) and also close fully.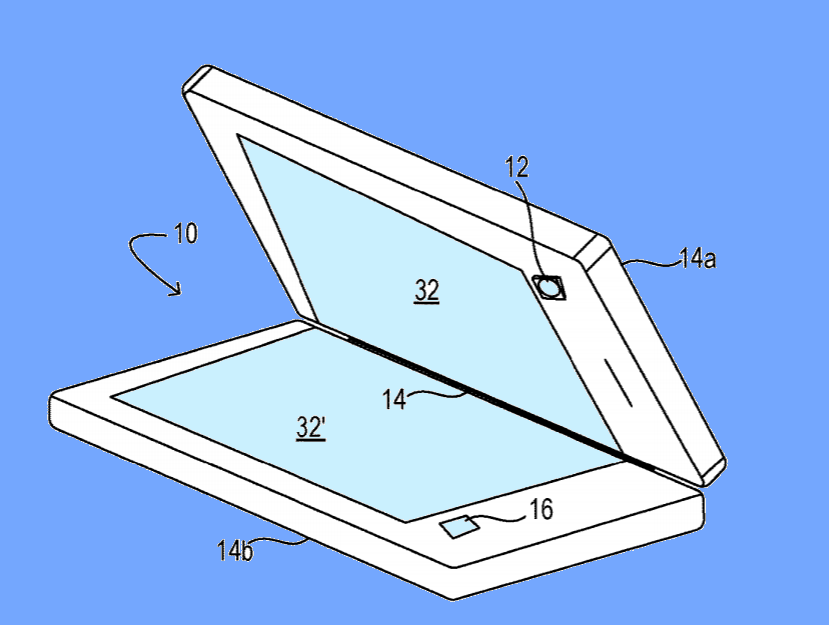 Even more crude, "RETRACTABLE CAMERA CAP" would have the camera constantly protrude from the internal face of the device, with a corresponding pit on the other half which would have an automatic cover (the camera cap) which would be closed in the open configuration and open when you close the device, to house the protruding camera.
We have also earlier seen a patent for a periscope-like arrangement which would mount the camera sideways and use mirrors to redirect the light, using the width of the device to compensate for its lack of thickness.
All these patents suggest that Microsoft is exploring multiple ideas to solve the problem, though of course we do not know if any made the cut, or even the device itself, but it is good to see Microsoft spending some serious thinking time on delivering a good camera for the somewhat mythical device.