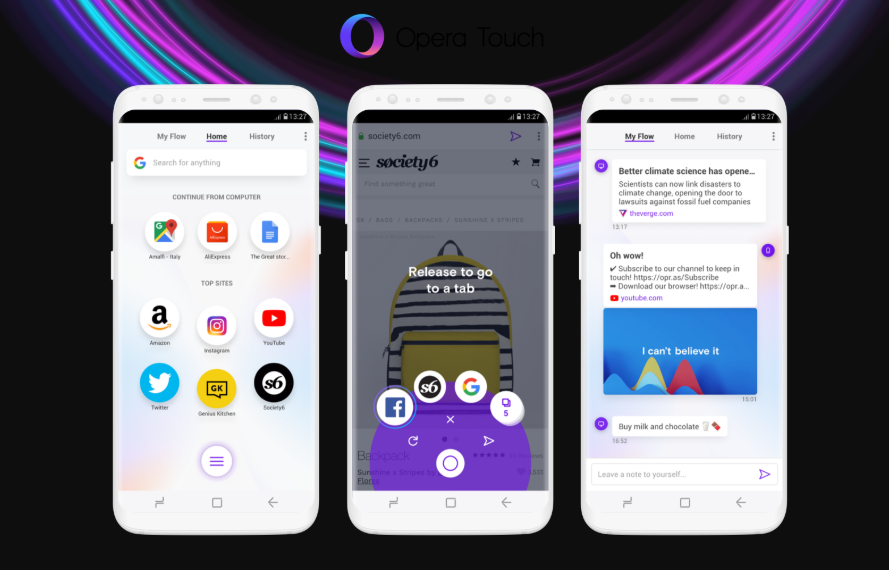 Opera today announced a brand new mobile web browser named Opera Touch for iOS and Android devices. Opera has designed it to be used with just one hand. In order to make it easier for users to reach the browser controls, Opera has moved the browser's key functions within the thumb's reach.
httpv://www.youtube.com/watch?v=embed/CsmxLWjznwg
When you start the Opera Touch browser, it will open in search mode (the keyboard will be up and the address bar cursor will blinking) allowing users to instantly search on anything they want. You can also use the voice search function or scan a QR or barcode to perform search.
There's a new big button at the bottom of the browser screen, Opera is calling it Fast Action Button (FAB). It is always available and gives you direct access to the most recent tabs and search features. Using this button, you can navigate through all of the browser's features with just your thumb.
You can now easily share links, files, images across your desktop and mobile devices using new Opera Flow service. After connecting your Opera computer browser with Opera Touch mobile browser, Flow will allow you to share links, images, videos or notes with yourself.
Opera Touch can be downloaded for free for Android on Google Play and will be coming to iOS soon. Download the latest Opera builds here.