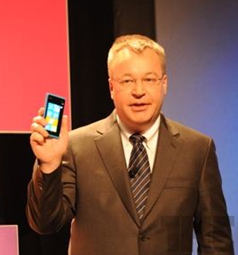 Unlike Microsoft Nokia has come to the realization that it needs to do more than rely on their brand name to transition their legacy users to their new operating system.
Speaking at their earnings conference call, Stephen  Elop said that Nokia was focusing on addressing shortcomings in the Windows Phone ecosystem as well as the most-requested features from former Symbian customers within the company's Lumia phone line.
Nokia's plan for enhancing the Lumia feature set, including: "Wi-Fi hotspot tethering capabilities; Vcard sending and receiving, which turns out to be the most often requested capability from existing Symbian users; data voice and messaging tracking capability for cost control; panorama image capabilities that stitch together multiple images to create a great photographic experience; and the introduction of a DLNA client for television connectivity," Elop said.
Unlike other Windows Phone OEMs Nokia has a wide permission to tweak the Windows Phone OS, and have already added a Bluetooth profile allowing contacts to be transferred from other phones. They have mainly however been releasing stand-alone applications that add missing features to the OS.
Other high demand Symbian features however include Bluetooth FTP and OBEX profiles and USB Mass Storage mode, both anathema to the closed and isolated Windows Phone system.
Elop also said that the goal of creating a software ecosystem around Windows Phone was on pace. Nokia and Microsoft will soon attract more than two-thirds of the top 100 applications from competing ecosystems on the Windows Phone marketplace. In total, Windows Phone has more than 80,000 apps across 54 markets and in 23 languages, he said.
Stephen Elop has earlier said that early signs in USA has been encouraging for their Nokia line, but that they still face challenges convincing consumers in Europe.
Is there any features that you feel should be added urgently to Windows Phone? Let us (and maybe Nokia) know below.
Via PCMag.com