I just came across an interesting concept for a gaming-focussed Windows Phone.
The creator, Antonio Celestino's Portfolio, notes that powerful hardware means that  smartphones have now comparable or better graphics than the traditional portable videogame. However, ergonomics are still a big problem when playing in a phone. They are not designed to fit every game needs. For instance, First-Person-Shooters games can be extremely hard to play because the touchscreen does not work well as gamepad.
He created the above concept, The Nokia Lumia PLAY, that features two pads located on the back of the phone that you can use as gamepads, improving the gaming experience.
The concept features:
The Lumia PLAY is powered by Microsoft´s XBOX ®, and it is possible to use your phone as a gamepad when playing in a XBOX 360;
3GB RAM, 8-core processor;
It features a high definition, 1136×640 resolution, touchscreen with Corning ® Gorilla ® Glass;
It also has a front 5MP camera capable of recording 720p videos and on the back it has a 10MP, Full-HD camera;
The Nokia Lumia PLAY runs Windows Phone 8
Dimensions: 124 x 59x 7.6 mm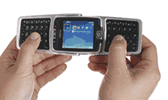 I suspect the thickness is a bit over-optimistic for such a device, and of course such a special-purpose handset is very unlikely to do very well, but then Nokia did release the Nokia E70, which in many ways is a similar concept, and who can forget the Nokia N-Gage gaming-focussed handset.
Many more images can be seen at IndustrialDesignserved.com here.
What do our readers think of the concept? Let us know more below.