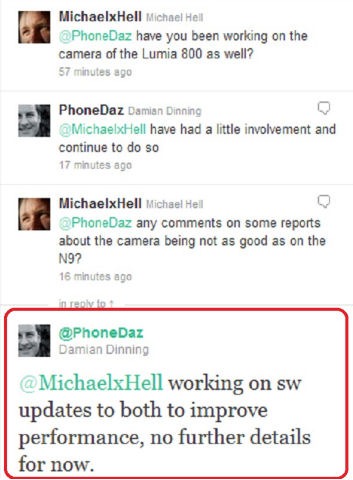 The Nokia Lumia 800 was expected to bring the best of Nokia's camera phone expertise finally to Windows Phone 7.
It was therefore rather disappointing when the camera did not live up to our expectations.
Now the My Nokia Blog reports Damian Dinning, Nokia's "imaging guru" and the owner of the imaging experience for Nokia Smart Devices has posted on twitter that a software update was coming for the Nokia N9 and Nokia Lumia 800 which will  improve performance of the camera in these handsets.
The Nokia Lumia 800 appears to have a number of issues, which mostly appear to be software related, including a cold colour temperature, slow auto-focus and compression issues which could all be corrected with software. Hopefully we will see just such an update in the next few weeks.
The Nokia Lumia 800 (SeaRay) is an upcoming Windows Phone with a 3.7" ClearBlack AMOLED screen, HSPA+ data speeds, and a 1.4 GHz single-core processor. It has an 8-megapixel rear camera, no front-facing camera, and 16 GB of storage. It is coming to many countries like Germany around November 16, 2011. United States release date is currently unknown. Full specs…