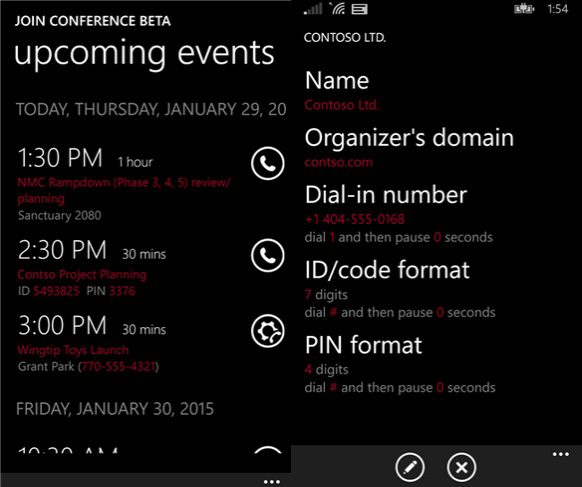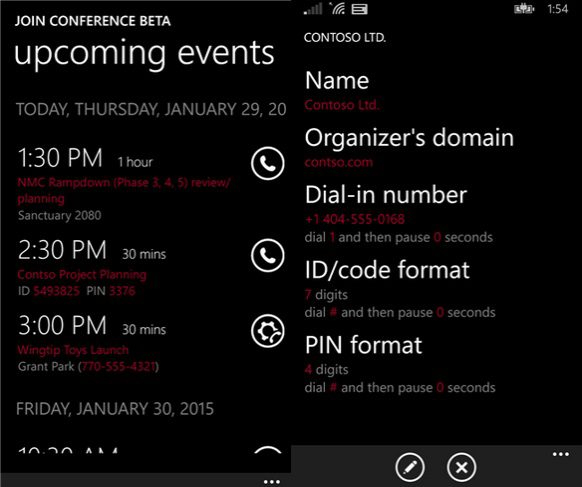 Microsoft today released an update for its Nokia Conference beta app in Windows Phone Store. This app got renamed as Join Conference Beta. This app makes it very easy to dial into conference calls. You don't have to switch to the calendar app, remember the ID/PIN codes, getting the right access number, switching to the phone app, making the call, and entering all the codes. Instead just hit one button or even join via voice command.
Join via voice by speaking to Cortana "JOIN CONFERENCE". We'll automatically figure out which meeting is going on currently or about to start, speak it back to you for confirmation, and connect you. The easiest way to connect to a meeting is having your virtual assistant do it for you!

Join Conference should work with all conference systems, whatever your company might use. For most systems, it dials the appropriate phone number, ID, and PIN touch tones, including any special codes required when you're the meeting leader. For Lync and GoToMeeting conferences it launches the associated app to join.
Join Conference Beta is a free app for Lumia owners and can be found in the Windows Phone Store here.