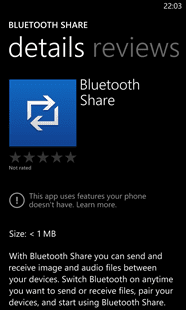 All those who have installed the Windows Phone 7.8 ROMs for Lumia handsets from Navifirm and who were disappointed by the lack of the Bluetooth File Sharing app now have cause to rejoice, as the app has now shown up in Marketplace.
The app's description reads:
With Bluetooth Share you can send and receive image and audio files between your devices. Switch Bluetooth on anytime you want to send or receive files, pair your devices, and start using Bluetooth Share.

Sharing with Bluetooth you can send and receive pictures and audio files sharing them between your devices. Turn on Bluetooth every time you want to send or receive files, associated devices and start using Bluetooth share.
Nokialino.it, who tested the app, reports that he was able to share pictures with his Nokia 73 without any issue.
Find the app in the Windows Phone Store here.
Via Nokialino.it