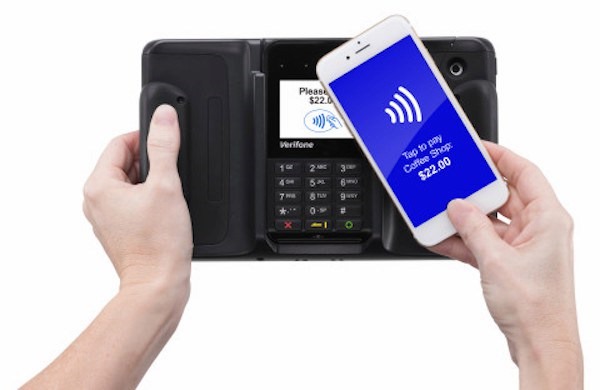 Verifone has announced a new Mobile Point of Sale terminal, the PAYware Mobile e355, which supports devices running iOS, Android and also Windows Phone.
Their new cross-platform, cross device terminal solves the problem for small retailers of the form factors and other aspects of the devices frequently change.  This often requires merchants to upgrade both their consumer technology and mPOS terminal. Being cross-platform also gives them choice of operating system, to achieve better integration into their back end systems.
The PAYware Mobile e355 is a flexible, long-lasting device that can accommodate different form factors and outlive smartphone and tablet models. This enables merchants to make long-term investments in mPOS, at a much lower cost of ownership.  Furthermore, it supports all of the major OS options, including Android, iOS and Windows.
"The prospect of having to purchase new mPOS devices for sales associates when smartphones and tablets are upgraded has been a major inhibitor to mPOS investment among retailers," said Mark Shockley, senior vice president of Mobile Solutions for Verifone.  "Verifone's single, modular solution will offer the ultimate in mPOS flexibility, allowing it to persist across changes in devices, even if somebody wants to make a complete switch from one OS to another."
This new Verifone mPOS terminal includes all of the functionality needed to enable commerce from anywhere inside or outside the store. 
Verifone's mobile solution:
Accepts all payment types, including EMV, NFC, Apple Pay, and traditional magnetic stripe
Features an optional bar code scanner, making it ideal for multiple use cases
Supports Wi-Fi, Bluetooth and USB connectivity
This new mPOS terminal will also support Verifone's Secure Commerce Architecture solution, which eliminates the flow of consumer payment data into the merchant's integrated point of sale  system, and enables encrypted delivery of this data from the POS terminal directly to the merchant's processor, preventing hacks like the recent Home Depot data breach. 
Solutions such as these makes it possible for smaller merchants to standardize in Windows Phone while still having access to robust and mature services and equipment. The PAYware Mobile e355 will be available in late summer 2015.