Nokia fans can just not leave Windows phone 7's Metro UI alone, and of course Microsoft did not help, with its Double sided Live tiles and extra Deep Link tiles it announced at MIX 11, not to mention giving Nokia carte blanche with modifying Windows Phone 7 as they see fit.
Peter over at the MyNokia blog has created 3 new concept designs which he would like added to Windows phone 7.
Above is his concept of Live Cubes, which takes Microsoft's Double Sided Tiles to the 3rd dimension. Swiping would turn the cube, and moving to the list of apps could be accomplished by starting swipes from the right unoccupied area.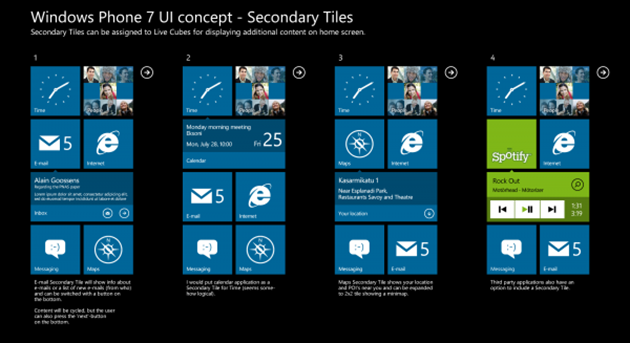 His next concept is secondary tiles, which allows for larger, double sided tiles to bring additional functionality and control to existing Live Tiles apps, e.g a Secondary tile for the email app which would show the content of a new email, or one for Spotify that would present playback controls. Deep link tiles, already announced at MIX, would be the closest to this concept.
His last concept is the most innovative, and would have all the tiles in the start page switch to functionality for a specific tiles e.g. browser shortcuts, on long press of a single tile.  See the video above for the concept in action.  He notes re-arranging tiles is little used, and could be re-assigned to another control.
Peter explains his concepts in a lot more detail on the MyNokiaBlog here.
What do out readers think, given that Microsoft is already extending the user interface in Mango. Could they learn a thing or two from Peter? Let us know below.
Thanks Just Visiting for the tip.