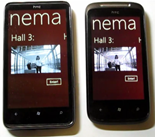 Microsoft Hawaii is a set of cloud services provided by Microsoft Research to universities and students to explore the potential of cloud-enabled applications.
The service includes a Relay Service, to connect devices on different networks, OCR in the Cloud, returning text for uploaded images, Speech to text, cloud computing using Azure, cloud storage in a virtual SQL database, mapping and identification using Windows Live ID.
The Relay service is necessary as most mobile service providers do not provide mobile phones with consistent public IP addresses that would allow for them to be reachable from other devices. This makes it difficult to write applications where mobile phones communicate with each other directly.
The Hawaii Relay Service provides a relay point in the cloud that mobile applications can use to communicate. It provides an endpoint naming scheme and buffering for messages sent between endpoints. It also allows for messages to be multicast to multiple endpoints.
The above app, which allows for synchronized video playback and messaging,  is a somewhat contrived example, although one can see the potential for remote training for example, but one can easily see the utility of the service for turn by turn gaming or mobile MMORPG.
Read more about Project Hawaii at Microsoft Research here.