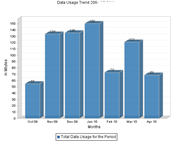 It appears Microsoft has found the cause for the excessive data usage some Windows phone 7 users have discovered, with their phones downloading up to 50 MB each day for no obvious reason.
In a statement to Seattle PI they blamed a "third-party solution commonly accessed from Windows Phones" for the excessive use, saying:
We have determined that a third-party solution commonly accessed from Windows Phones is configured in a manner that potentially cause larger than expected data downloads. We are in contact with the third party to assist them in making the necessary fixes, and are also pursuing potential workarounds to address the configuration issue in case those are needed. At this point in our investigation, we believe this is responsible for most of the reported incidents.
We are investigating additional potential root causes for the remainder of the reports.

A small (low single-digit) percentage of Windows Phone customers have reported being affected.

We are continuing to investigate this issue and will update with additional information and guidance as it becomes available.
Microsoft has declined to say what "third-party solution" is responsible, but I would speculate the facebook integration is most likely. Microsoft did not say when a fix would be available.
Via SeattlePI.com