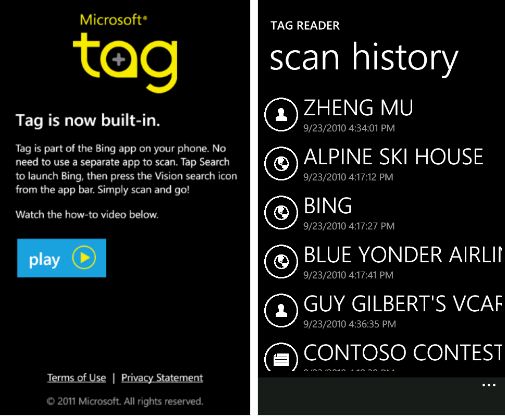 Microsoft recently announced the support of QR codes and NFC in Microsoft Tag platform. We all know that in Windows Phone Mango Microsoft Tag is now built into Bing's Visual Search functionality. You can scan both Tag barcodes and QR Codes using Bing Visual Search.
Simply tap Search to launch Bing, then press the Vision search icon from the app bar. Hover the viewfinder over your Tag barcode or QR Code and your item will be scanned.
The Microsoft Tag app which was in marketplace was updated which makes it pretty useless now.  Because the app has no functionality built in, instead it shows a demo of how to use Bing Visual Search to scan Microsoft Tags and QR codes.