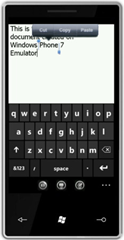 We all know that an update for Windows Phone 7 is coming, but the time scale has never been clear. While some have rumoured an early January update, more recently we have heard "first half of 2011".
it is therefore reassuring to hear a Microsoft product manager (even if its for Microsoft Project and Sharepoint, not Windows phone 7) giving us a might closer time scale.
In a blog post addressing accusations that Microsoft is a dying consumer brand, he notes:
Critics have commented on the lack of specific features like copy & paste and lack of 100s of thousands of applications. And while both are true, copy & paste will be available as an update in a matter of weeks (early 2011) and as for applications, it's just a matter of time.
It is not know what else this update will contain, but I am sure we call all fantasize on our favourite missing feature being added to the list.
Via WPCentral.com