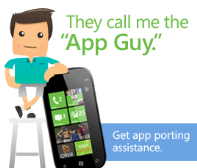 Microsoft has released a tool to make it easier to port applications written for the Android OS to Windows Phone 7.
The software includes an Android to Windows Phone API mapping tool and the Windows Phone 7 Guide for Android Application Developers white paper.
Microsoft notes the tools will not magically convert an Android app to a Windows Phone 7 app, but make it much easier for developers to do the same.  Microsoft however plans to continue expanding the scope of the tool, and also include Mango features.
To help developers who take on the task, Microsoft has also hired specialist forum staff at their aggregating discussion forums to help developers who get stuck porting apps.
Read more about the tool at the Windows Team Blog here.