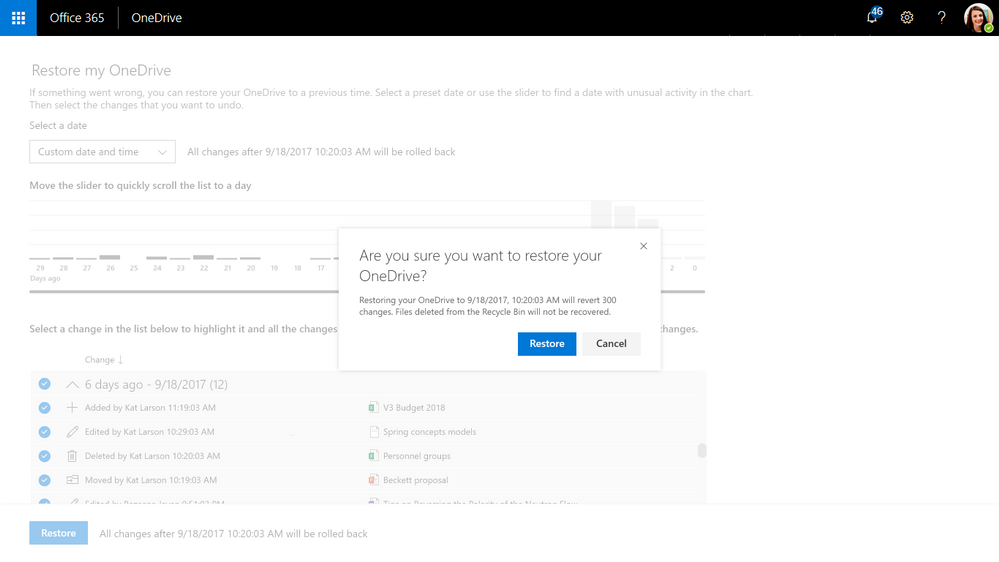 Microsoft today detailed the much-awaited Files Restore feature for OneDrive for Business customers. In the case of accidental end-user deletion, file corruption, or malware infection, OneDrive for Business users and admins can make use of this new self-service recovery solution to restore files from any point in time during the last 30 days. They can also investigate file changes in Restore my OneDrive section.
SharePoint Online already had a file restore feature, but it was a support-driven process and the time it takes to recover content can be days or weeks. This new Files Restore feature will be loved by both the users and admins since it is a complete self-service recovery solution.
How this feature works:
To use Files Restore, all a user needs to do is choose Settings and then Restore OneDrive
Users are presented with a histogram showing file activity over the last 30 days with an intuitive slider to "rewind" those changes.
They can then easily select the file or files to restore from that point in time.
The user then is prompted with a date range as well as the number of files to restore. The user chooses to restore and the files are then restored back into the users OneDrive.
This new feature starts rolling out today to all OneDrive for Business users and will continue to roll out over the next few weeks.