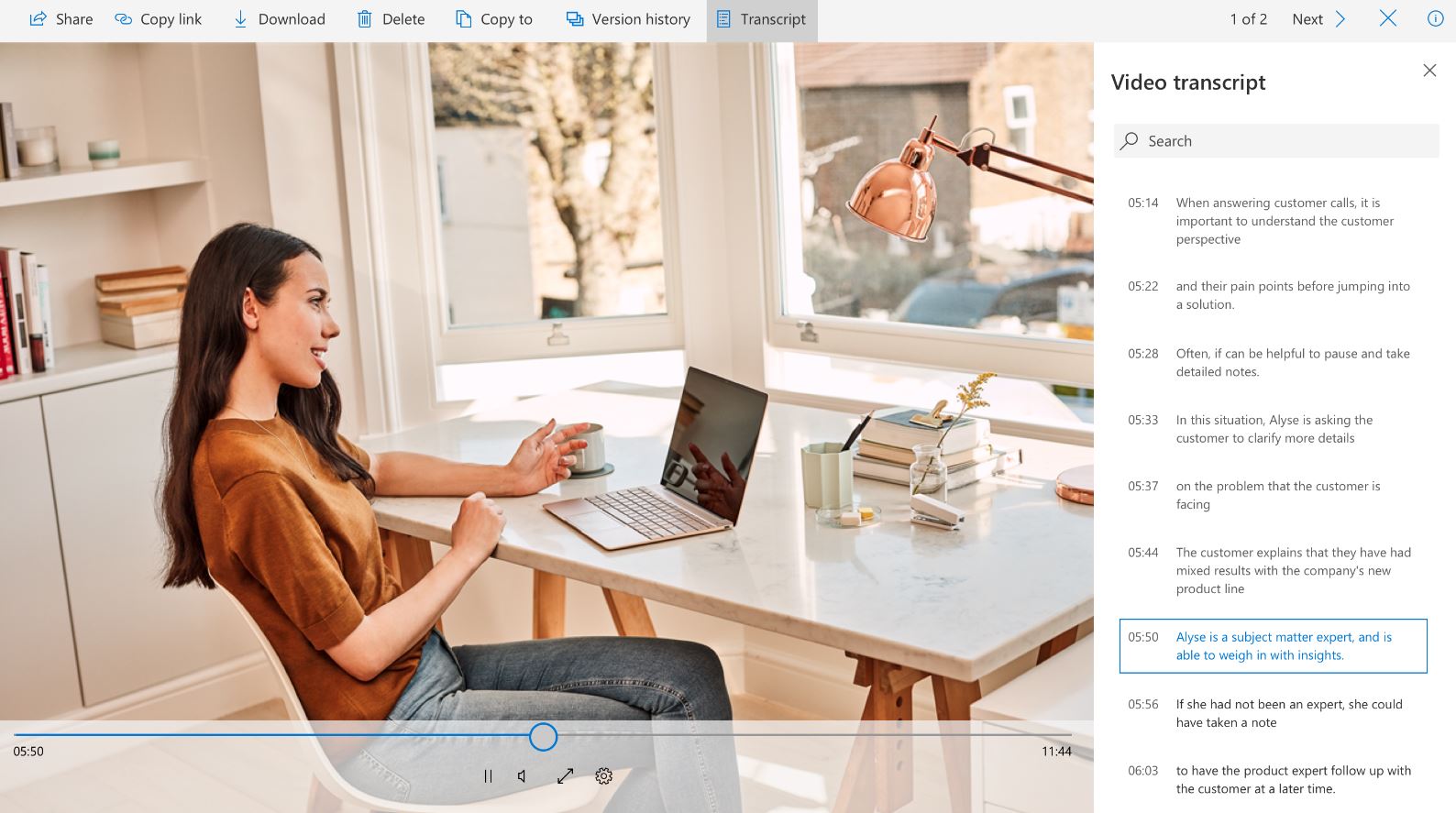 Microsoft today announced several new AI capabilities in OneDrive and SharePoint that will help uses in becoming more productive and make more informed decisions. Some of the new features that are announced today include video and audio transcription support, improved audio and video search capabilities, intelligent file recommendations and more. Read about them in detail below.
Video and audio transcription—Beginning later this year, automated transcription services will be natively available for video and audio files in OneDrive and SharePoint using the same AI technology available in Microsoft Stream. While viewing a video or listening to an audio file, a full transcript (improving both accessibility and search) will show directly in our industry-leading viewer, which supports over 320 different file types.
Searching audio, video, and images— Using native, secure AI, we determine where photos were taken, recognize objects, and extract text in photos. This recognition and text extraction allows you to search for images as easily as you search for documents. For example, you could search a folder of scanned receipts for the receipt that mentions "sushi." Video and audio files also become fully searchable thanks to the transcription services described earlier.
Intelligent files recommendations—Later this year, we'll introduce a new files view to OneDrive and the Office.com home page to recommend relevant files to you. Suggested files are based on the intelligence of the Microsoft Graph and its understanding of how you work, who you work with, and activity on content shared with you across

Microsoft 365

. This deep understanding of user behavior and relationships among coworkers is unique to

Microsoft 365

and continues to be enriched as you collaborate on content in OneDrive and SharePoint.
File insights—Earlier this year, we rolled out an updated file card, providing access statistics for any file stored in OneDrive and SharePoint. This allows you to see who has looked at the file and what they have been doing, and it helps you decide your next action. Later this year, we'll bring these valuable file statistics directly into the native Office application experience.
Intelligent sharing—Later this year, you'll have the option to easily share relevant content with meeting attendees. For instance, if you just presented a PowerPoint presentation, you'll be prompted to share it with the other attendees once the meeting is over. In the OneDrive mobile app, we'll automatically prompt you to share photos taken during the same meeting, perhaps of a whiteboard where you brainstormed new ideas with your colleagues—all based on your Outlook calendar.
Intelligent compliance—In addition to being able to apply native data loss prevention (DLP) policies and conduct native eDiscovery searches on textual content stored in OneDrive and SharePoint, with the innovations discussed above, we're making it even easier to use these key compliance capabilities with audio, video, and images later this year. Soon you'll be able to leverage the text extracted from photos and audio/video transcriptions to automatically apply these policies and protect this content.
Microsoft will reveal more information on these features and future AI capabilities at Ignite conference next week.
Source: Microsoft